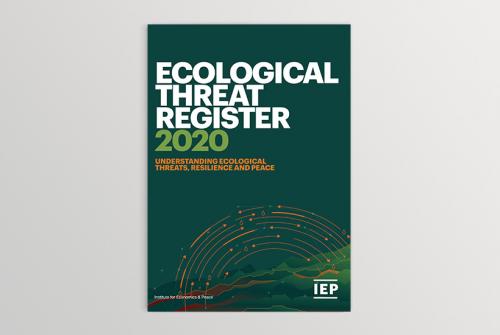 Read full report here: https://www.visionofhumanity.org/wp-content/uploads/2021/10/ETR-2021-web...
Read related news: https://www.dw.com/en/conflict-being-driven-by-ecological-damage-report-...
Read the full press release: https://www.economicsandpeace.org/wp-content/uploads/2020/09/Ecological-...
Excerpts from the press release: 
Over one billion people at threat of being displaced by 2050 due to environmental change, conflict and civil unrest LONDON, September 09, 2020, Today marks the launch of the inaugural Ecological Threat Register (ETR), that measures the ecological threats countries are currently facing and provides projections to 2050. The report uniquely combines measures of resilience with the most comprehensive ecological data available, to shed light on the countries least likely to cope with extreme ecological shocks.
The report is released by leading international think-tank the Institute for Economics & Peace (IEP), which produces indexes such as the Global Peace Index and Global Terrorism Index. Key results
 19 countries with the highest number of ecological threats are among the world's 40 least peaceful countries including Afghanistan, Syria, Iraq, Chad, India and Pakistan.
 Over one billion people live in 31 countries where the country's resilience is unlikely to sufficiently withstand the impact of ecological events by 2050, contributing to mass population displacement.
 Sub-Saharan Africa, South Asia, the Middle East and North Africa are the regions facing the largest number of ecological threats.
 By 2040, a total of 5.4 billion people – more than half of the world's projected population – will live in the 59 countries experiencing high or extreme water stress, including India and China.
 3.5 billion people could suffer from food insecurity by 2050; which is an increase of 1.5 billion people from today.
 The lack of resilience in countries covered in the ETR will lead to worsening food insecurity and competition over resources, increasing civil unrest and mass displacement, exposing developed countries to increased influxes of refugees.
The Ecological Threat Register analyses risk from population growth, water stress, food insecurity, droughts, floods, cyclones, rising temperatures and sea levels. Over the next 30 years, the report finds that 141 countries are exposed to at least one ecological threat by 2050. The 19 countries with the highest number of threats have a combined population of 2.1 billion people, which is around 25 per cent of the world's total population. The ETR analyses the levels of societal resilience within countries to determine whether they have the necessary coping capacities to deal with future ecological shocks.
The report finds that more than one billion people live in countries that are unlikely to have the ability to mitigate and adapt to new ecological threats, creating conditions for mass displacement by 2050.
The country with the largest number of people at risk of mass displacements is Pakistan, followed by Ethiopia and Iran. Haiti faces the highest threat in Central America. In these countries, even small ecological threats and natural disasters could result in mass population displacement, affecting regional and global security. Regions that have high resilience, such as Europe and North America, will not be immune from the wider impact of ecological threats, such as a significant number of refugees.
The European refugee crisis in the wake of wars in Syria and Iraq in 2015 saw two million people flee to Europe and highlights the link between rapid population shifts with political turbulence and social unrest. However, Europe, the US and other developed countries are facing fewer ecological threats and also have higher levels of resilience to deal with these risks. Developed countries which are facing no threats include Sweden, Norway, Ireland, and Iceland. In total there are 16 countries facing no threats.
Steve Killelea, Founder & Executive Chairman of the Institute for Economics and Peace, said: "Ecological threats and climate change pose serious challenges to global peacefulness. Over the next 30 years lack of access to food and water will only increase without urgent global cooperation. In the absence of action civil unrest, riots and conflict will most likely increase. COVID-19 is already exposing gaps in the global food chain". Many of the countries most at risk from ecological threats are also predicted to experience significant population increases, such as Nigeria, Angola, Burkina Faso and Uganda.These countries already struggle to address ecological issues. They already suffer from resource scarcity, low levels of peacefulness and high poverty rates.