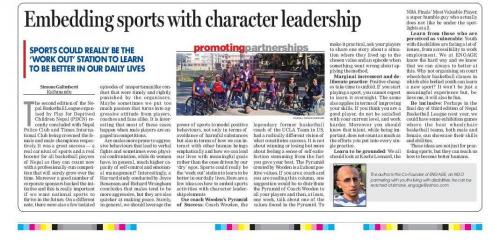 The 2nd edition of the Nepal Basketball League organized by Play for Deprived Children Nepal (PDCN) recently concluded with Nepal Police Club and Times International Club being crowned the female and male champions respectively.
It has been a great success, a real carnival of sports, a real booster for all the basketball players of Nepal as they can count now with a professionally run competition that will surely grow over the time.
Moreover a good number of corporate sponsors backed the initiative and this is really important if we want national sports to thrive in future.
Watching the games, you could really see the energies unleashed by the passion of the fans, all cheering, screaming for their respective teams and we should all be congratulating the team at Play for Deprived Children Nepal for pulling off the second edition with style.
On a different note, there were also few and isolated episodes of unsportsmanlike conduct that were timely and rightly punished by the organizers.
Maybe sometimes we put too much passion that turn into aggressive attitudes by parts of players, coaches and fans alike.
It is interesting that most of these cases accidents happen when male players are engaged in competitions.
Are male's brains wired to more aggressive behaviors? Are they more prone to aggressive behaviors that lead to verbal fights and sometimes even physical confrontation while are women have in general much higher capacity of self- control and emotions' management?
Interestingly a Harvard study conducted by Joyce Benenson and Richard Wrangham concludes that male tend to be more aggressive but also they are quicker at making peace. Interesting!!!
Surely, in general we should leverage the power of sports to model positive behaviors, not only in terms of avoidance of harmful substances but also in terms of how we can interact with other human beings emphatically and how we can lead our lives with meaningful goals rather than driven by our "dry" egos.
Sports could really be the "work out' station to learn to be better in our daily lives
Here few ideas on how to embed sports activities with character leadership elements
Use the Coach Wooden Pyramid of Success: Coach Wooden, the legendary basketball ball of UCLA Team in the USA had a radically different vision of what constitutes success.
It is really not about winning or losing but it is more about feeling a sense of self-satisfaction stemming from the fact you gave your best. The Pyramid created by Coach Wooden is all about positive values.
Without living, day in and day out, positive values, you cannot be successful according to this model.
If you are a coach and you are reading this column, one suggestion would be to distribute the Pyramid of Coach Wooden to all your players and then, at least, one week, talk about one of the values found in the Pyramid.
To make it practical, ask your player to share one story about situation where they lived up to the chosen value and an episode when something went wrong about applying it.
Marginal Increment and deliberate Practice: positive changes take time to unfold. If you start playing a sport, you cannot expect to learn about it overnight. The same true applies also in terms of improving your skills.
If you think you are a good player, do not be satisfied with your current level, work harder and harder. Moreover you should know that talent, while being important, does not count as much as the efforts you put in every single practice.
Learn to be grounded: we all should look at Kawhi Leonard, the NBA Finals' Most Valuable Player, a super humble guy who actually does not like be under the spotlights at all.
Do not shout at the referees or you will lose focus: Recently the Ferrari Formula 1 car team got embroiled in a controversy because their appeal to a penalty that cost them the winning of a race was rejected.
They are keeping complaining about being treated unfairly but rules are rules. Lewis Hamilton, the running world champion with Mercedes suggested Ferrari to stop "crying" and get focused on racing. I am a Ferrari fan but Hamilton is super right on this, period.
The same on a basketball court: players should never ever be allowed to get distracted to complain about a referee's decision even if they think they are being treated unfairly.
Let the Coach or the management do it so the players can remain focused on the game.
Learn from those who are perceived as vulnerable: youth with disabilities are facing a lot of issues, from accessibility to work employment. We at ENGAGE know the hard way and we know that we can always to better at this. Why not organizing on court wheelchair basketball classes in which able bodied youth can learn a new sport? It won't be just a meaningful experience but believe me, it will also be fun.
Be inclusive: Perhaps in the final day of 3rd edition of Nepal Basketball League next year, we could have some exhibition games where the best wheelchair basketball teams, both male and female, can showcase their skills and abilities. For example the Solo Basketball Academy run by former ENGAGE Sport Coaches Manish and Manoj Rajopadhyay recently organized a clinic for children and youth and they invited their former wheelchair basketball team, the Jawalakhel Wheelchair Sport Club and their new ENGAGE Coach Samjok Thapa for an exhibition game. Great initiative!
These are just some ideas for enjoying practicing sports but also for learning from it on how we can become better human beings out of it.