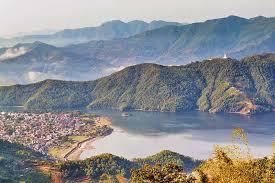 (photo credits Lonely Planet)
Nepal is an amazing country with a rich variety of landscapes from the highest mountains to the plain tropical forests of Tarai.
In this piece, we will start with some short descriptions of the areas in the proximity of Pokhara, the starting and ending point of the Annapurna Circuit.
There are different places to visit and attracts towards tourists.
Among them Pokhara is one of the beautiful city of Nepal. It is also known as the "city of seven lakes". It is the second largest city which is located in Gandaki zone. It lies in Gandaki valley and north western corner of Pokhara valley. it is situated at elevation 1008 meters above sea level. It has Longitudearea of 83.968510 and Latitude area of 28.266890 We can travel through private or public transportation and plane flights to reach Pokhara. These attractive activities like paragliding, rafting, ultralight flight, honey haunting and cycling are popular in Pokhara.There are different places to visit Pokhara among them:
1 Phewa Lake: It is one of the water sports attracts towards tourists. The major attractions for visiting Tal Barahi Temple which is located at centre of Phewa lak It is one of religious moment and worsip the god and goddess and sacrifice animals on every saturday.
We have enjoyed for boating around the lake. The eastern bank of Phewa lake called lake side In this lake side we have found different hotels, lodges, bookshops, and other thins we have stayed in lodges at reasonable price to promote local tourism It is one of the starting point for tour to Pokhara
2 Mahendra cave: This cave name originated from formal king Mahendra Bir Bikram Shah Dev. This cave was discovered in the late 1950s It is one of the attractive and natural site to visit Mahendra cave. It takes two hours walk to reach this cave from north of Pokhara.
The cave is known as the 'House of Bats" The sorroundings of this cave is completely dark with continuously water drop fall over the head. Due to the darkness inside the cave, the artificial lights are provided
3 Davids Fall: It is one of the famous water fall in Pokhara which attracts tourists to visit this place. known as "Patale Chhango". It is located close to Gupteshwor Mahadev Cave on the other side of the World Peace Stupa. This waterfall has a length of 500 meters and depth of 100 feet.
4 Sarangkot: It is one of the beautiful places to visit it. Sarangkot is also a popular paragliding launching point. From this place we can view the sun rise moment in the early morning. We can view different mountain ranges from the top of the hill. The mountain ranges are Mt. Machhapuchhre, Dhaulagiri, Ganesh, Manaslu, and Annapurna.