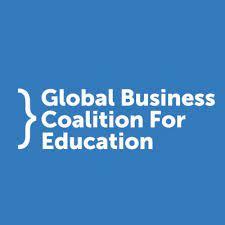 https://gbc-education.org/about-us/how-we-work/
An active coalition for change
Joining forces with the Global Business Coalition for Education provides companies unparalleled access to our team's expertise and vast networks of companies, foundations, international organizations, NGOs, and youth partners engaged in shaping education policy, programs, and public campaigns. Here's how we work:
---
---
1.​​ Building a movement to end the global education crisis
The Global Business Coalition for Education supports companies to ensure every child has the best start in life, a safe and inclusive place to learn, and skills for the future. It allows business leaders to publicly champion a call to action, rally their corporate peers in support of education, and lead tangible action towards ending the global education crisis and unleashing the potential of the next generation.
---
2. Tools and resources
We develop and deploy evidence-based tools and products that enhance engagement between business and education sectors so that corporate investments create business impact as well as scalable social impact.
Our strategic guidance to businesses helps companies proactively drive ESG metrics in a positive direction through the integration of education, skills development and human rights into the full range of their community and stakeholder programs.
---
3. Partnership and action platform
We facilitate strategic partnerships at global and national levels to bridge the divide that currently exists between the business and education sectors. Together, we advance collective impact towards the 2030 Sustainable Development Agenda.
We identify impactful partnership opportunities across our core mission areas, including humanitarian relief, diversity, equity, and inclusion, and youth skills.
---
4. Special projects
There are several special projects where businesses can participate directly in shaping policy and action for the next generation.
Skills Friendly Cities is an initiative setting out opportunities for city governments, education systems, industry leaders and youth-serving organizations to work together to advance skill development for the Fourth Industrial Revolution.
The Disability Task Force is an initiative identifying opportunities for the business community to make an impact in inclusive education for young people with disabilities and build a strong bridge from education to inclusive employment.
---
5. Resources
We consolidate and analyze existing evidence, frameworks, guiding principles, and strategic initiatives to inform potential tools and products for improving business decision-making and impact investment.
Our resource, The Key, helps the business community make concrete links between investment in education and the advancement of other social impact priorities, ranging from climate change to anti-racism and public health.
The Key conversation series features business leaders alongside subject-matter experts and youth innovators and campaigners focused on setting the agenda for social impact. Senior corporate leaders will be able to participate as panelists in these discussions which are streamed across our platforms and promoted in all of our global markets.
---
6. Employee engagement and public communications
While 70 percent of employees report that their sense of purpose is defined by their work, only 15 percent of frontline managers and workers feel they are living their purpose at work. Our employee engagement tools help companies advance social impact through education and provide opportunities for employees to get involved in a purpose-driven approach to impact.
Our communications team works to tell the stories about businesses making strong investments in education, showcase examples of what works, and highlight member companies making an impact in the world.