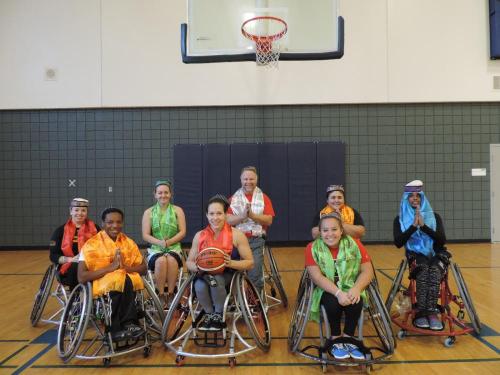 Having lived for 7.5 years in India and Nepal and after a series of basketball injuries experiencing what it's like to have a physical disability, I'm sensitive to some of the difficulties that people living with disabilities face.  After my injuries healed I was able to walk without crutches.   However for the 15% of the world population living with a disability, especially those living in a "developing" country, life can be extremely inaccessible and difficult for even small tasks. 
When I took my recent assignment as the Assistant Women's Wheelchair Basketball Coach at the University of Arizona I didn't realize how focused the University is on making disability part of the "daily conversation" due to the school's Disability Resource Center.  "UA Disability Resources Center (DRC) is a national model for colleges and universities.  Through its innovative services, programs and partnerships, DRC leads the University in the creation of accessible and inclusive learning and working environments on campus. UA DRC has redesigned the traditional disability services paradigm and presents disability as an integral part of society and the UA campus, a source of pride and community."   
Looking at the DRC website there are tabs for Students, Instructors, Athletics, Workplace Access, Outreach and Education and itaccessibility. (The University of Arizona is committed to achieving full accessibility of all electronic and information technology to ensure equitable experiences for everyone). These offer a full range of learnings to the entire community promoting a way to proactively talk about disability.
Amanda Kraus, Ph.D. is currently the Deputy Director of the DRC and an Assistant Professor, Higher Education.  In January 2017 she will become the DRC Director.  Ms. Kraus grew up outside of New York City and was born with spina bifida and uses a wheelchair.  
Amanda describes herself as an overachiever and was always about "exploding" stereotypes.  She wanted to be happy and productive in her life and really didn't have friends with disability until she was in her mid-20's.  At 29 she started playing wheelchair tennis placing her in a community with other disabled people.  This was a major turning point as Amanda immersed herself further in the disability culture.
The University of Arizona DRC, which is approximately 40 years old, is a unique institution which has 40 full-time staff.  (The University has 40,000 students and 10,000 staff).    Other universities, e.g. University of Minnesota, Central Florida and Northern Arizona University are also doing quite a bit.  Thanks to the DRC there is a pro-activeness that goes well beyond the Americans with Disabilities Act (ADA-1990).  The Association for Higher Education and Disability (AHEAD), which the DRC is a member of, helps with the development of policy and in the provision of quality services for persons with disability. 
The DRC helps to promote disability as a social justice issue working proactively to bring this into a daily discussion.  Given this the DRC partners in planning, design and construction of new and renovated buildings using universal design principles,  information technology and working with the University General Counsel.  This is not only about maintaining compliance with the ADA, but how to make the University welcoming and provide the same experience for both non- and disabled people.  The DRC very much takes a systematic and sustainable approach.  This is about "shifting the culture, in making disability something which adds value to the community. 
At the University of Arizona DRC having a disability does not mean that a person is "less than others".  This is more about access, equity and respect, creating an equitable environment no matter who a person is.  The University of Arizona may have more resources than those in Nepal.  However the take home point is that when there is intention on creating something different, pushing society to become more inclusive, there are always creative ways to get there.
One of my Nepali friends Ananta Baidya  lives in San Diego and attended St. Xavier's and IIT Kharagpur, has a son with disability.  Mr. Baidya loves Nepal very much and travels back and forth to discuss how to, among other things, make infrastructure more accessible.  He has spoken at KU teaching a course on more universal design methods and has also spoken at the US Embassy in Kathmandu.  The question though for me is how those attending his lectures follow through on helping to create a more welcoming and inclusive Nepali society?