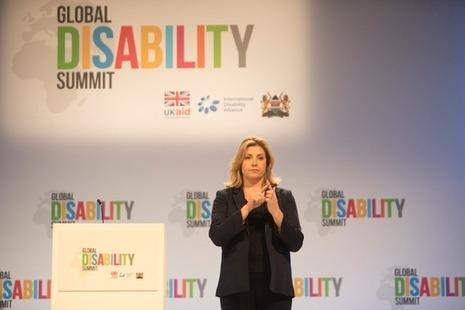 For too long, disability has been a neglected issue in international development. An estimated one billion people globally have some form of disability. Disabled people are poorer than their non-disabled peers in terms of access to education, healthcare, employment, social support and civic involvement. They are at higher risk of violence and subject to widespread stigma and discrimination. The world will not achieve the Sustainable Development Goals and its commitment to leave no one behind without a sustained and concerted effort on disability inclusion.
That is why in July this year we hosted a Global Disability Summit with the Government of Kenya and the International Disability Alliance. The Summit focused global attention on disability inclusion, and brought together more than 1000 delegates from governments, donors, private sector organisations, charities and disabled people's organisations. The Summit mobilised commitments from more than 170 organisations and more than 320 governments and organisations signed the Summit's Charter for Change'. To ensure long-lasting impact of these commitments, my Department is working with partners on a robust monitoring process.
To support this ambition to make disability inclusion a reality in developing countries, I will ensure we place disability inclusion at the heart of everything DFID does. Our vision is for a world where all disabled people are engaged, empowered and able to exercise and enjoy rights on an equal basis with others, contributing to poverty reduction.
On International Day for Persons with Disabilities, I launched DFID's first disability inclusion strategy. We will increase access to inclusive education, improve social protection, empower people to find work and step up in humanitarian contexts. We will support disabled girls and women, tackle stigma and discrimination and harness the power of technology. We will also step up on mental health. The strategy will include stretching targets for all DFID business units to deliver, including a focus on regular and meaningful engagement of disabled people in our work.
DFID's global leadership on disability inclusion is in the national interest in demonstrating UK values of fairness and inclusion, in supporting the most disadvantaged and in sharing UK expertise and practice. I want the UK to be a trailblazer at home and abroad. To do that we need our political offices to be inclusive and better reflect our society. That is why I am delighted to launch the EnAble Fund for Elected Office – a £250,000 commitment to help cover disability-related expenses people might face when seeking elected office. Further information is available via this link: https://www.disabilityrightsuk.org/enablefund.
A copy of the strategy has been published on GOV.UK and will be placed in the Library of the House for the availability of Members (including an 'Easy Read' version designed for people with learning disabilities).