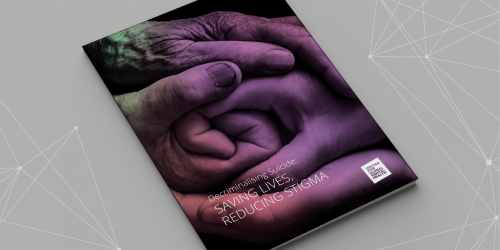 https://unitedgmh.org/suicide-decriminalisation
United for Global Mental Health is dedicated to creating a world that enables good mental health for all. We focus on what will make the most difference to global mental health, and we build whatever it takes to make that happen.
DECRIMINALISING SUICIDE: SAVING LIVES, REDUCING STIGMA
In recent years many countries have made progress in their efforts to reduce the rate of death by suicide. But suicide still remains a criminal offence in 20 countries, with some laws dating as far back as 160 years ago.
The criminalisation of suicide is counter productive. It does not deter people from taking their lives, but it does deter them from seeking help in a moment of acute crisis and potentially placing them in facilities where they may not receive the support they need.
In the run up to World Suicide Prevention Day 2021, we're launching our latest report, Decriminalising Suicide: Saving Lives, Reducing Stigma, examining the civil laws which criminalise suicide and the implications they have around the world. 
OUR REPORT:
- Surveys the legal structures in countries where suicide is a criminal offence 
- Explains what the repercussions are for someone who attempts suicide, and their friends and family
- Explores what the law says in each country and whether there are efforts to reform it

We hope that the publication of this report will help those campaigning for decriminalisation of suicide make progress and ensure that everyone, everywhere, who needs support for their mental health before, during and after a suicidal crisis can access it, free of stigma and discrimination.
PRESS RELEASE 
https://unitedgmh.org/sites/default/files/2021-09/PRESS%20RELEASE%20suic...
8 SEPTEMBER 2021, LONDON: A new report examines the 20 countries where suicide and suicidal behaviour remains a criminal offence and where individuals who attempt to take their own lives risk severe penalties for themselves and even their families. Globally over 700,000 people die by suicide every year - in 2019 more and 1 in every 100 deaths worldwide was due to suicide. And for every one person who dies, 20 more have attempted suicide.
The report by United for Global Mental Health working with the International Association for Suicide Prevention (IASP) examines where, why and the implications of criminalisation of suicide, providing up to date evidence on suicide legislation and a profile of the situation in each of the 20 countries. Maximum penalties range from 1-3 years imprisonment and fines of up to US$2000. Many of the laws allow for children to be punished and a number have legislation in place as a legacy of laws from the Colonial period - some as old as 160 years - and a lack of mental health reform. The stigma surrounding suicide, particularly where it is illegal, continues to make the subject taboo and discourages communities from talking openly about the issue.
"The criminalization of suicide is counter productive: it does not deter people from taking their lives. Instead it increases stigma, prevents people from seeking help in a moment of acute crisis, and deters communities from offering life-saving mental health support", said Sarah Kline, CEO of United for Global Mental Health.
The report was produced with the support of TrustLaw, the Thomson Reuters Foundation's legal pro bono service and an international law firm who conducted the research. It is being released during 2021's Suicide Prevention Awareness Month as a tool to help campaigners seeking to decriminalise suicide. The report also shows that many countries have made progress in their efforts to reduce the number of deaths by suicide, with legislation successfully repealed or superseded by new laws in the Cayman Islands, Cyprus, Lebanon and India. "We have a historic opportunity to press for reform," stressed Sarah Kline. "This year health ministers agreed at the World Health Assembly that decriminalisation of suicide is an important policy measure to reducing suicide rates.
Now it is time the remaining countries reform their laws. I hope the report will inspire an end to criminalising suicide and greater action to save lives." Suicide is the second leading cause of death among 15-29 year-olds globally, and over 79% of suicides occur in low and middle income countries. "We should all strive for a world where people are not judged by their mental health.
The decriminalisation of attempted suicide is the first step in ensuring the rights of vulnerable individuals are upheld", said Rory O'Connor, IASP President. "In urging countries to reform their laws and end the criminalisation of suicide, we can make progress towards reducing stigma and encouraging understanding and work towards positively influencing mental health policy; a vital step in ensuring those engaging in suicidal behaviour obtain the help they need and want.