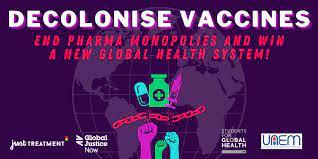 https://www.globaljustice.org.uk/event/decolonise-vaccines/
Speakers:
Fatima Hassan

, Health Justice Initiative, South Africa (week 1)

Maurine Murenga

, Lean on Me Foundation, Kenya (week 2)
Plus other speakers by event
Global vaccine inequality is the result of our broken pharmaceutical industry, rooted in colonial history that extracts from the south to enrich the north. Economic rules designed by rich countries drive record profits for multinational companies and block the demands of countries in the global south to gain control over vaccine production. Join our speaker tour to find out how countries in the global south are fighting back against the profit-driven pharmaceutical system, and what we can do to transform health provision globally to dismantle these colonial dynamics.
Mon 14 March: Brighton, Friends Meeting House, 7pm [book]
Tue 15 March: Cambridge, Lee Hall, Wolfson College, 5pm [book]
Fri 18 March: London, King's College, 7pm [book]
Sat 19 March: Leeds, University of Leeds, 4pm [book]
Mon 28 March: Manchester, St Thomas Centre, 7pm [book]
Tue 29 March: Leicester, University of Leicester, 7pm [book]
Wed 30 March: Newcastle, Newcastle University, 7pm [book]
Thu 31 March: Stirling, Cottrell Building, Stirling University, 7pm [book]
2 April: We Rise, GJN youth network national gathering, London
Tour organised by Global Justice Now, Just Treatment, Universities Allied for Essential Medicines and Students for Global Health.