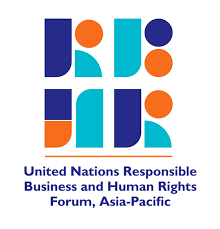 https://www.rbhrforum.com/agenda2023
About the 2023 Forum
The 75th anniversary of the Universal Declaration of Human Rights (UDHR75) provides us with an important opportunity, as well as a potential inflection point, to move from commitment to action by strengthening the State duty to protect human rights, the corporate responsibility to respect human rights, access to effective remedy and, ultimately, global solidarity for the rights of all.
Under the theme "From Commitment to Action", the 5th UN Responsible Business and Human Rights Forum aims to build on ongoing dialogue on the issues, challenges, and sectors the business and human rights community needs to act upon and what needs to be done to ensure commitments are put into action.
Day 1  |  7 June
Inaugural Session and Opening Plenary: From commitment to action
9:00-11:00 ICT
Background
The 75th anniversary of the Universal Declaration of Human Rights (UDHR75) provides us with an important opportunity, as well as a potential inflection point, to move from commitment to action by strengthening the State duty to protect human rights, the corporate responsibility to respect human rights, access to effective remedy and, ultimately, global solidarity for the rights of all.
Since the United Nations Guiding Principles on Business and Human Rights (UNGPs) were unanimously endorsed by the UN Human Rights Council in June 2011, our planet and society have undergone significant change. From conflict, ecological decline and climate change to shrinking civic spaces, gender inequality and modern slavery, the collective challenges that we face have grown in complexity, scale and urgency. The nature of these challenges demands concerted action at all levels of governance—from the grassroots to regional and global levels—and from all stakeholders. Alongside States as the primary duty-bearers, businesses are particularly central to forging a more sustainable future grounded in freedom, equality and justice for all rights holders.
The perennial question is how this more sustainable future is to be achieved. The past decade of the UNGPs' implementation has featured successes in terms of legislative and policy frameworks to promote responsible business conduct, including national action plans (NAPs) on business and human rights and the growing application of due diligence principles in both law and practice. However, sustained and coordinated action is required to drive positive change, further advance the BHR agenda and make tangible progress on the 2030 Agenda for Sustainable Development. Indeed, the 4th UN Responsible Business and Human Rights (RBHR) Forum, which took place in 2022, highlighted how policy coherence, multistakeholder cooperation, and a 'smart mix' of policy and regulatory initiatives are prerequisites to effectively harnessing levers of change to promote responsible business. But it also conveyed a resounding message from participants on how we must not become complacent: even with the gradual proliferation of incentives, policies, regulations and legislation aimed at promoting business respect for human rights, our work in preventing and addressing business-related human rights impacts is far from done.
To this end, the 2023 UN RBHR Forum will discuss how commitments can be put into action. In view of how the UDHR75 Initiative inspires us to reflect as much on current realities as on future possibilities, the Forum will bring diverse interlocutors to discuss, debate, and share insights on issues ranging from the regulation of global supply chains and the implications of corporate sustainability due diligence to the recently recognized right to a clean, healthy and sustainable environment, for example. The Forum will also highlight issues, challenges, and sectors that the BHR community needs to act upon, including the intersection of climate-induced labor migration, biodiversity and BHR, the responsibility of development financiers, and the role of micro-, small, and medium-sized enterprises, among others. The Forum will also bring attention to specific groups at heightened risk of abuses such as Indigenous Peoples, persons with disabilities and displaced persons, while taking an intersectional and interdisciplinary approach to promoting, disseminating, and implementing the UNGPs in the Asia-Pacific region.
Objectives
The key objectives of this session are to:
·         Raise awareness and strengthen capacity in relation to the implementation of the UNGPs and the MNE Declaration into the next decade
·         Take stock of the progress and challenges in promoting responsible business practices in the Asia-Pacific region and reflect on the lessons learnt to scale up progress
·         Create an inclusive space for multi-stakeholder dialogue and facilitate peer-to-peer learning and promote collaboration and networking among a wide range of stakeholders, including rights holders, governments, businesses and industry associations, national human rights institutions, civil society organizations, trade unions, human rights defenders, academia, lawyers, and journalists
​
Speakers
KEYNOTE SPEAKER Angkhana Neelapaijit
Angkhana Neelapaijit is a women human rights defender. She was the Founder and former Chairwomen of Justice for Peace Foundation, an NGOs work on human rights and peace. Angkhana worked relentlessly to help victims of human rights abuses in Thailand especially in southernmost provinces where there is serious conflict and violence. The mission has made her one of Thailand's most prominent human rights defenders.Her dedication has won her many several international human rights awards, they include the Gwangju Prize for Human Rights and the honored by the European Parliament as "Women Human Rights Defender" on 2006, an honor "De Chevalier De L'Ordre de la Légion d'Honneur" from the French President for her outstanding work in the human rights protection on December 2010. And on the human rights month December 2014, Angkhana Neelapaijit was honored by the UN Women as "Women of Achievement" and The Ramon Magsaysay Award 2019 from The Ramon Magsaysay Foundation, The Republic of Philippines.Angkhana used to be the member of Constitutional Drafting Committee and Member of Constitutional Assembly in 2007, the Member of Ad Hoc Committee on Drafting Gender Equality Act 2015. Angkhana Neelapaijit is the Commissioner -National Human Rights Commissioner of Thailand (NHRCT) since November 2015 to July 2019.
Angkhana served as the Member of Ad Hoc Committee on Drafting Prevention and Suppression of Torture and Enforced Disappearances Act, B.E. 2022 and on 1st May 2022 Angkhana was appointed to be the UN Expert and Member of UN Working Group on Enforced or Involuntary Disappearances (WGEID) – Member from Asia and Pacific States.
 
Livio Sarandrea
Livio Sarandrea is UNDP's Business and Human Rights Global Policy Advisor. He is a human rights lawyer with 20 years of field experience in Southeast Europe, Africa and Asia, Livio has advised and managed programs on Business and Human Rights, in support of National Human Rights Institutions, Access to Justice, Conflict Prevention, Transitional Justice and Security Sector Reform for OSCE, DPKO/OHCHR and UNDP.
 
Jon Åström Gröndahl
H.E. Mr Jon Åström Gröndahl has been the Swedish Ambassador to Thailand since September 2020. He is also accredited to Lao PDR, Cambodia and the Ambassador-Designate to Myanmar.
Ambassador Jon previously served as Deputy Director-General & Head of Department for Consular Affairs and Civil Law at the Ministry of Foreign Affairs in Stockholm from 2015 to 2020. From 2011 to 2013, he was Deputy Director & Head of Consular Section.
Previously, he served as Head of the Middle East Section at the Swedish Military Intelligence and Security Directorate, Armed Forces Headquarters from 2008 to 2011. He has worked as First Secretary at the Embassy of Sweden in Islamabad, Political Advisor ISAF/PRT Mazar e-Sharif, Afghanistan in 2007 to 2008.
After entering the Foreign Service in 2002 and up to 2007 he served in various positions at different MFA Departments, including Middle East and North Africa and the Office of the Minister for Development Cooperation.
Ambassador Jon holds Master of Laws (LL.M.) degree from Lund University (Sweden). He is married to Ambassador Helena Gröndahl Rietz and has one daughter.
 
Farah Kabir
Farah Kabir has been working with ActionAid Bangladesh as the Country Director since June 2007. Over close to three decades of vast experience in the field of development and research has made her renowned human rights figure at home and abroad with an uncompromising voice against human-rights violation. She was the Chair of the Global Board of the Global Network of Disaster Risk Reduction (GNDR) for two terms in 2015 and 2021, a Board Member of Climate Action Network South Asia (CANSA) in 2019, steering committee member of ACIAR-Rupantar program of Australian Government, advisory committee member of Women's Economic Empowerment (WEE), a member of Advisory committee of Bangladesh's NDA to the Green Climate Fund (GCF), a member for the  Women's Peace and Humanitarian Fund (WPHF), National Steering Committee. Ms. Kabir worked with British Council for nearly ten years both in Bangladesh and United Kingdom. She is the co-editor of two recent publications namely 'Discourse Analysis as a Tool for Understanding Gender Identity, Representation and Equality' and 'Revealing Gender Inequalities and Perceptions in South Asian Countries through Discourse Analysis'. Farah has contributed to women in politics through her writings and policy advocacy nationally as well as internationally.
 
Pichamon Yeophantong
Pichamon Yeophantong serves as Chairperson and Member from Asia-Pacific States on the UN Working Group on Business and Human Rights. She is also Associate Professor and Head of Research at the Centre for Future Defence and National Security, Deakin University. As a political scientist, Pichamon teaches and publishes field-based research on business and human rights, and the political economy of sustainable development in the Asia-Pacific.
 
Aziz Iqbal
Mr. Aziz Iqbal is currently serving as a Deputy Director at the Ministry of Human Rights, Government of Pakistan. He has experience in human rights, human & gender development. Since 2015, he has been a part of the International Cooperation Section, dealing with international reporting to the United Nations, the European Union and regional intergovernmental organizations on an array of topics including but not limited to GSP+, minority rights, women's rights and BHR. He has also represented Pakistan in numerous regional and international forums.
 
Emiko Nagasawa
Emiko NAGASAWA is Senior Adviser, Labor Legislation Bureau
Keidanren (Japan Business Federation). At Keidanren, she had been in charge of revising the Charter of Corporate Behavior and its Implementation Guidance to promote responsible corporate behavior among the member companies