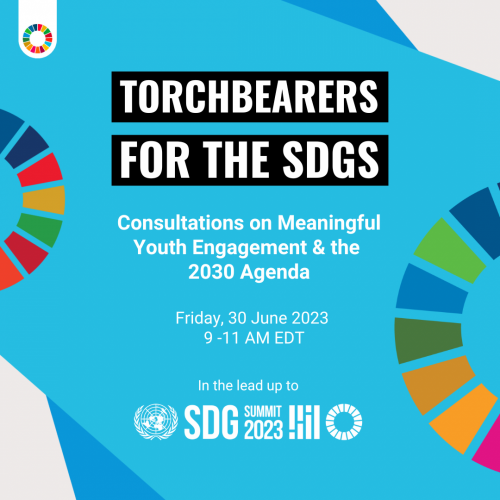 https://www.un.org/youthenvoy/wp-content/uploads/2023/09/Torchbearers-fo...
https://www.un.org/youthenvoy/wp-content/uploads/2023/08/Guidance-for-Se...
The SDG Summit 2023 provides a unique opportunity to expand and strengthen meaningful youth engagement at all levels, particularly in the scope implementation, review and follow-up of the Sustainable Development Goals (SDGs). Building on the views and recommendations from young people, highlighted during the "Youth & the SDGs'' global consultation, the outcomes of the 2023 ECOSOC Youth Forum, as well as the process culminating in the SecretaryGeneral's Policy Brief on Meaningful Youth Engagement in Policymaking and DecisionMaking Processes, the Office of the SecretaryGeneral's Envoy on Youth facilitated a youthled meaningful youth engagement roadmap towards the SDG Summit 2023.
Objectives of the consultation:
● Inform and raise awareness among youth about the meaningful youth engagement roadmap to the SDG Summit 2023.
● Gather views and recommendations from youth on key framing questions on meaningful youth engagement and the 2030 Agenda. Desired outcome: The process will culminate ahead of the SDG Summit 2023, scheduled to take place at the United Nations Headquarters on 18 and 19 September 2023. The outcomes of the consultations will be unveiled during a dedicated SDG Mobilization Day on 16 September 2023. Sign up here for more information. They will also further into the Global Youth Position Paper for the SDG Summit that will be presented on 16 August 2023. The consultation will explore seven questions.
1. What are some of the challenges or barriers you have faced or identified as a young person or youth organization, movement, and network, when taking action on the SDGs?
2. What are key opportunities to enhance youth leadership in SDG implementation, monitoring, and review, in your specific context?
3. What are the opportunities we have right now to shape the decisions and actions of future generations of "engaged youth"?
4. How can youth be better engaged as full-fledged partners in SDG implementation?
5. What methods can enhance meaningful youth engagement, especially of marginalized and vulnerable groups, in implementing, monitoring, and reviewing the SDGs? How can this engagement be mainstreamed at global, regional, national, and local levels, including grassroots?
6. How have you, as a young person or youth organization, movement or network, contributed to SDG implementation or led initiatives on the SDGs so far?
7. What would greater youth-led accountability look like in the context of the SDGs - how can young people be better engaged in tracking progress and ensuring commitments are delivered on?