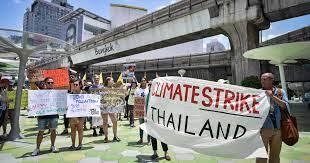 Climate Justice Priorities in Southeast Asia | Heinrich Böll Foundation | Southeast Asia Regional Office (boell.org)
"The impact of climate crisis on the SRHR (Sexual & Reproductive Health and Rights) of individuals, especially girls and women, people of underrepresented sexual orientation, gender identity, and/or expression, and sex characteristics (SOGIESC), and those who experience multiple and intersecting forms of discrimination, has received little attention. Recognizing these impacts are key to sustainably adapting to climate change while also improving gender equality and access to SRHR services."
"Priorities of climate action from a gender perspective are:
1. Enhancing, investing, and promoting collaboration & research between actors working on climate change, health, and women's rights that addresses the linkages between climate change and SRHR. 
2.Supporting health systems to address the underlying causes of vulnerability to climate change and understanding how compounding crises and intersecting identities shape vulnerability and resilience to climate change and SRHR to make sure climate actions do not exacerbate inequalities."
- Dewi Candraningrum, Indonesia
"The Global Climate Strike is important to me as it is an occasion for young people around the world to mobilise together to demand that political and corporate leaders take concrete and meaningful action to address the climate emergency.
The science is clear: the climate crisis is an emergency that will only get worse if concrete actions to drastically and rapidly reduce carbon emissions and help those who are most vulnerable adapt to the consequences of climate change, are not taken. Current national and corporate pledges are insufficient hence the need for the climate strike to demand immediate ambitious actions to address the climate emergency."
My priority for climate justice in 2021 is to work towards ensuring that the climate actions that are taken including ambitious new mitigation and adaptation policies. These should leave no one behind and help the poor and vulnerable especially in the Global South successfully transition to a low carbon economy and adapt to a world that is already being transformed by climate change."
- Julian Theseira, Malaysia
"To me, the Global Climate Strike has an opportunity for everyone, particularly the youth, to come together and stand up for our future to say 'no more' to big polluters and their irresponsible actions. Because of today's new sphere of doom-and-gloom and the series of world-stopping events in 2020, for 2021, I'm determined to focus my headspace and efforts to proactive, optimistic solutions, celebrating those trying to move forward and make our world a better place regardless of all challenges."
- Nanticha "Lynn" Ocharoenchai, Thailand
"Every day we have to suffer because of the coal plant. Our very right to breathe clean air is taken away from us. It is unjust that communities like ours have to suffer, because of dirty business. If they have a right to conduct their business, we have the right to breathe clean air and live in a healthy environment and these are what we are fighting for when we oppose dirty businesses like coal plants."
- Cheryl Magracia, the Philippines