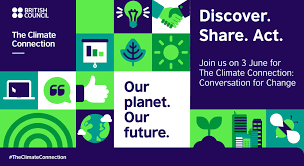 The Climate Connection | British Council
The climate emergency affects all of us. It's a global issue, a human rights and equality issue, a health issue — and a survival issue. Faced with this challenge, we urgently need to come together.
The British Council's Climate Connection is a global initiative, uniting people around the world to meet the climate challenge.
Taking place in the run up to the United Nations climate conference, COP26, it's about sharing ideas and taking positive action together.
The British Council - Climate Connection
The Climate Connection programme brings people around the world together to meet the challenges of climate change.

Drawing on our global network, the Climate Connection programme connects 200 million people from different countries, generations and backgrounds – young people and policy makers, artists and scientists, business and community leaders, and many others.
In particular, it focuses on the next generation of climate leaders and gives practical support to young people and communities most impacted by climate change, helping them share their perspectives globally and achieve real change.