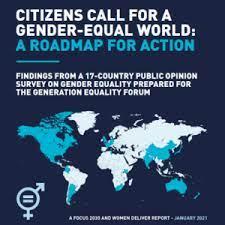 DATA COLLECTED FROM 
OVER 17,000 ADULTS

 IN 

17 COUNTRIES

 SHOW THAT CITIZENS AROUND THE WORLD:
ARE ready to shape a gender-equal tomorrow, from the way they vote, to the products they buy.


⮞ 80% of respondents personally believe that gender equality is important.

WANT bigger, bolder government action to accelerate progress.


⮞ 65% of respondents want their government to invest more to promote gender equality.

BELIEVE women should be fully and equally engaged in charting our path forward.


⮞ 82% of respondents believe women should be involved in all aspects of COVID-19 response and recovery efforts.

ARE led by young women, who have the highest expectations for more government action. 


⮞ 75% of female respondents aged 18-24 expect their government to increase funding for gender equality.

KNOW that gender equality is essential to long-term progress everywhere.


⮞ 60% of respondents agree that achieving gender equality is essential to ending poverty in all countries.

ARE equally in favor of achieving gender equality.


⮞ The overwhelming majority of male respondents across all countries are in support of gender equality.
A Roadmap for Action
The survey reveals that the public expects leaders to act now to turn the tide. Published ahead of this year's Generation Equality Forum and as the world works to build a healthier, more equitable future, the study's findings offer a roadmap of priority actions that governments, the private sector, and civil society should focus on to accelerate progress on gender equality.
LEADERS MUST MATCH WORDS WITH ACTION BY:
Making bigger, bolder commitments and taking meaningful action.
Matching commitments with financing and accountability mechanisms.

Developing policies and programs

 that foster collaboration across Generation Equality Action Coalitions.
Addressing harmful gender norms through advocacy and public communications campaigns.
Eliminating discriminatory laws and 

enact policies

 that respect the rights of girls and women, in all their diversity, and drive gender equality.
Investing in gender-disaggregated data collection and analysis to inform policies.
Applying a gender lens to the COVID-19 response and recovery plans reflective of 

overlapping inequalities

, such as race and poverty.
Ensuring that investments, policies, and programs equally benefit all girls and women, including 

young people

 and 

people from underrepresented groups

.