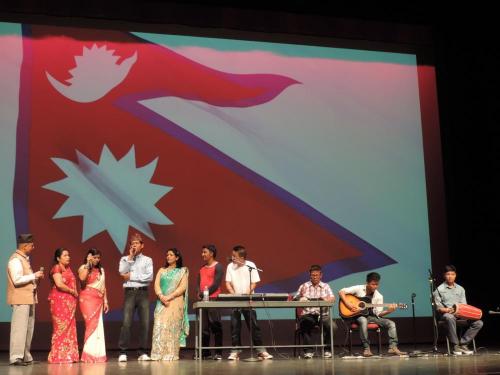 During the years 2012-2015 I spent Dashain in Nepal, always enjoying this very special festival.  Prior to recently moving back to the US I made it a point to connect with the Nepali community in Tucson who are members of the Nepalis and Friends Association Arizona.  This was a definite priority for me, similar to being able to connect with basketball in India before I started living there in April 2009.  This connection enabled me to coach at the YMCA in New Delhi on Saturday nights and ultimately led me to coaching wheelchair basketball. 
On October 8, I was invited to celebrate Dashain at the Pima Community College West Campus. At about 4 PM I walked into the celebration wearing one of my  I love Nepal t-shirts, and I immediately felt as if I was "home" greeting people with "Namaste".  I was again amongst Nepalis dressed in saris, the men wearing topis, the very cute children and Nepali being spoken by everyone.  I was invited to eat a wonderful meal of roti, paneer, rice and numerous vegetables with dessert being gulab jamin and dahi. Although this wasn't daal bhaat it was close enough as the meal was prepared by a local Indian restaurant.  After the dinner I could see liter thrown on the floor, however this was soon cleaned up and the area again became spotless.  
I spoke with two Arizona State professors who have lived in the US for varying amounts of time.  We talked about everything Nepal and when I spoke of where I had worked they nodded knowing well the areas that I was speaking about.  We talked about various issues facing the country and  It felt good to know that the professors understood exactly what I was saying. 
There were probably more than 100 people and we moved into a beautiful auditorium in preparation for a cultural event.    The curtains went up and there was Nepali music and dances, the Nepali flag and the same things that I saw when I was living in Nepal.  When I spoke to people about what I had been doing during the past four years and how much I loved the country their faces lit up with huge smiles. 
As my column two weeks ago indicated, I'm enjoying being back in the US. I love waking up to sunny, pure blue skies, being able to ride my bicycle with clearly demarcated bicycle paths in the streets and cars giving me the right of way, not only when I'm in a zebra crossing.   I enjoy going into the recreation center at the University of Arizona where I work out and having loads of exercise equipment a clean pool and locker room, clean bathrooms in restaurants, hygienic grocery stores and loads of farmers' markets with delicious baked goods and produce.   I don't take anything for granted as I've remarked to many people how nice it is to have electricity and hot water 24 hours/day.  I appreciate the fact that there aren't motorcycles trying to cut into small spaces.  Life has become somewhat easier even if I don't own a car, a house or any land. 
Although I know that I am no longer in Nepal because there are such large differences from the US, on October 8 for a little bit of time I felt as if I was back.  I've been invited to celebrate Nepali New Year 2074 in Phoenix, Arizona, something which I will do.  It's important to me that while away I don't lose my connection to Nepal a place which I called home for four years.   I tell everyone that I'm really learning wheelchair basketball because I want to come back to Nepal, and other countries, and be able to properly teach this and other sports for people with disability.  I will continue to enjoy my time in the US, close to family, but Nepal is always close to my heart.
I wish you all a very happy Deshain and Tihar!