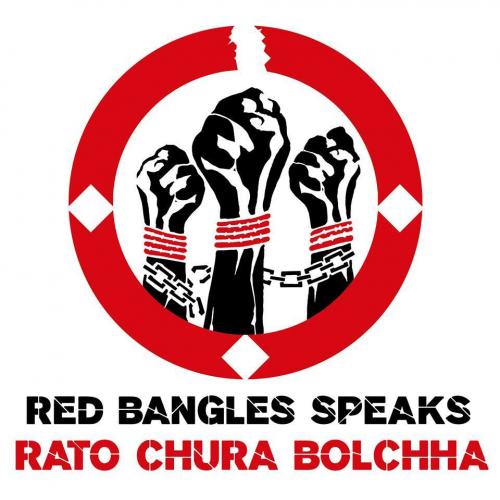 Global youth campaigners and activists of different nationalities from South Asia and Europe are running a campaign with the same vision, to FIGHT PATRIARCHY by providing awareness to the public regarding their social responsibility and to help them learn how to act against domestic violence in Kathmandu. The campaign aptly entitled, "Rato Chura Bolchha" translates into "Red Bangles Speaks" in English---- capturing and portraying the situations of women who are breaking the shackles of domestic violence and questioning the dominance of patriarchy in their societies today.
The campaign is part of the nine-week long (September 2-October 31) Global Change Course which is taking place in Kathmandu with 18 participants from five different countries including Denmark, Bangladesh, Myanmar, Pakistan and Nepal. The Global Change Course offers training for young activists to organize and carry out real life campaigns to tackle important social and political issues in society. The methods used in the course are based on learning by doing, and the participants gain new knowledge, skills and attitude including social innovation, creative thinking, workshop facilitation, leadership skills, development theories and campaign organizing tools.
Although the campaign is taking place in Kathmandu with special reference to the domestic violence taking place in Nepal, the campaigners argue that it is a global issue and needs to be fought globally. Domestic violence can thus be understood as violence occurring in public or in private life generally between individuals who are related through intimacy, blood or law. Violence can be physical, sexual, psychological, or can be of economic nature, and can include threats of such acts, coercion or arbitrary deprivation of liberty.
Even though the Interim Constitution of Nepal (2007) and Domestic Violence (Crime & Punishment) Act (2009) including the Country Code recognize women's rights and define domestic violence to be the crime, the survivors of domestic violence do not always get the justice from the system. Or, should we say, the system is such that it takes a long period of time for the victims to go through the legal process and have justice provided to them. In addition, Nepal is also signatory to major international conventions such as Convention on the Elimination of all Forms of Discrimination Against Women (CEDAW) and the 1995 Beijing Platform for Action which state that "domestic violence is a violation of women's human rights and that states have an obligation to work to eliminate this violence". But the reality of Nepal is not pretty.
It is estimated worldwide, that one in five women will become a victim of rape or attempted rape in her life time. Globally, the UN Report (2008) highlights that on average, at least one in three women is beaten, coerced into sex or otherwise abused by an intimate partner in the course of her lifetime. The same report further states that women aged 15- 44 are more at risk from rape and domestic violence than from cancer, motor accidents, war and malaria. The facts of domestic violence in Nepal are equally very shocking! The WOREC Report shows that in 2012, 64 percent of Nepalese women suffered from domestic violence. The same report reveals that out of 1581 women survivors seven percent had been raped. And, yet it is a depressing rate that only 20 percent of the Nepalese women seek legal justice and only 25 percent of women seek medical support. It is expected that 86 percent of Nepalese women are unsafe in their own community making domestic violence the most unreported and serious issue in the country.
However, people are starting to speak up against the injustice faced by women. The 2012 Delhi gang rape case and the story of a young Nepali woman returning from the Gulf who was robbed by immigration officials and raped by a policeman in Kathmandu created outrage among the general public. This led to people reacting and speaking up against the violence women face in their societies, and this in turn has forced the Government to take the issue seriously.
Keeping this in mind, Rato Chura Bolchha campaigners expect to generate public interest through various activities. The activities will include lobbying with the stakeholders and government officials and police forces to take the issue of domestic violence more seriously, enforcing strict laws and orders against those who commit the crimes. The campaign apart from fighting patriarchy by providing awareness and promoting public responsibility against domestic violence has the target to create awareness about procedures of legal assistance and safe houses while promoting public participation in decision making.
By bridging the information gap, putting pressure on government and police to implement the laws and acts protecting women, through pamphlets, organizing flash mobs, a rally and art exhibition, meeting the press, amongst other activities.
The campaigners of Rato Chura Bolchha believe that women have a voice that needs to be heard and that women can break the taboo, and that they are powerful and strong enough to speak out and seek justice for themselves and others. For this, the campaigners hope to mobilize a force against injustice, and bring positive changes in ways our societies perceive patriarchy and domestic violence because men and women should both speak against the despicable practices to make the world a more just and peaceful place.
Written by Rato Chura Bolchha campaigners.