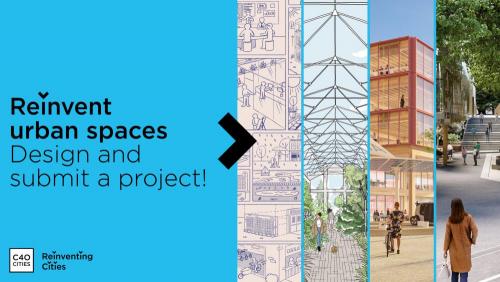 https://www.c40.org/news/reinventing-cities-urban-design-competition/
Reinventing Cities is a C40 Cities initiative that addresses the urgent need for change in the way that cities are designed and built in response to the climate emergency.
Twelve world-leading cities will participate in the initiative in 2022, demonstrating how urban climate leadership and collaboration with the private sector can enable low carbon development and empower communities to live more sustainably. Participating cities include Bologna, Bristol, Houston, Izmir, Lyon, Milan, Montréal, Naples, Phoenix, Rome, San Francisco and São Paulo.
C40 is inviting architects, urban planners, designers, developers, entrepreneurs, environmentalists, start-ups and neighbourhood groups to work together on proposals and compete for the unique opportunity to transform underutilised sites into a model for urban projects of the future. 
The winning projects will feature ambitious climate objectives, delivering energy efficiency and low carbon construction, together with a strong emphasis on social inclusion.
Expressions of interest will be accepted until various dates throughout September 2022; the deadlines vary by city – consult these site pages for details. The winning projects will be announced in 2023 and will be featured widely across multiple communications channels.
The competition is an opportunity to make a difference in your community and bring your city one step closer to a sustainable future.
This C40 initiative is made possible thanks to the support of Ingka Group, Stavros Niarchos Foundation & FedEx.
Casey Russo, Programme Officer at the Stavros Niarchos Foundation, said: "Reinventing Cities provides a unique interdisciplinary opportunity that brings architects, developers, and community members together to create projects in service of local neighbourhoods. SNF is proud to support this important programme and C40's global efforts to make the world a better place for all."
Cindy Andersen, Managing Director of Ingka Centres said: "Cities are at the centre of more and more lives around the world, and it is vital that society and industry work together to reinvent how we live, work and play to reduce our impact on the planet. Our shared vision with IKEA is to create a better everyday life for the many people, and we are committed to creating people-planet positive destinations for modern urban communities across all of our meeting places in the world. Achieving this requires ambitious ideas, and I look forward to reviewing the Reinventing Cities entries to see how we together can revitalise urban sites to protect the largest meeting place we all share: the planet."