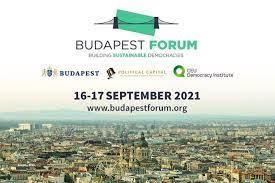 Dear Friends,
The City of Budapest is committed to advancing the cause of democracy, sustainability and equity. We are driven by the conviction that the critical issues of our time, be they environmental, political or social, can only be tackled by a concerted, global effort of all relevant stakeholders, including all levels of government, civil society, academia and media. We want to make our own lasting contribution to this broad discussion. Together with our collaborative partners, the Political Capital Institute and the CEU Democracy Institute, we are launching the Budapest Forum conference series, a flagship project in our international activities this year. With a strong emphasis on the role of local governments and local initiatives in promoting climate action and citizen participation, we are bringing together mayors from Europe and beyond, members of the European Commission and national governments, social activists, change-makers, prominent pundits and high-profile academics, so that we can debate and recommend policies which will make our democracies stronger, and drive us toward a more sustainable and equitable future. In addition, we will also create a new and active international network of experts and public officials, all eager to drive positive change.
See you all in Budapest!
Gergely Karácsony
Mayor of Budapest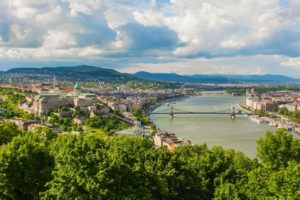 The past decade witnessed the emergence of several

high-profile international events in the CEE region.

The upcoming Budapest Forum is similar in

aspiration to its regional counterparts, with its first edition focusing on the role of cities and local initiatives in

building livable and sustainable democracies. Within this context, the Budapest Forum will also serve as

a hub for the Pact of Free Cities city network, bringing together mayors and civic leaders from around

Europe and beyond. Ideally, participants will leave

the conference not only inspired and eager to create

positive change in their respective fields, but also

as parts of a new and vibrant network connecting prominent local stakeholders and experts

across disciplines.

By convening not only political and public officials,

mayors, activists and community organizers,

but also business and industry leaders, the Forum will focus on inclusive governance and

grassroots engagement regarding:
Democratic sustainability: Rebuilding and strengthening democracy in the age of populism
and polarization from the bottom-up
Social and economic sustainability: Tackling inequalities during and after the COVID-19
pandemic
Environmental sustainability: Mainstreaming a bold green policy agenda
Technological sustainability: Developing policy responses to rapid technological change
and large-scale challenges to public healthcare systems
Rather than projecting doomsday scenarios about democracy's decline and tech-dystopia,

the conference will consider solutions to some of today's greatest challenges.

This we intend to ensure by bringing together panelists and speakers from diverse

backgrounds and viewpoints, galvanizing debate and showcasing novel policy approaches.

The Forum will eschew the traditional, linear logic, and will instead have a flexible

setting with a combination of plenary speeches, roundtables, public events, side-events,

and an awards ceremony of the Budapest Prize for Sustainable Democracy.

A LASTING CONTRIBUTION

The inaugural Budapest Forum – Building Sustainable Democracies will

offer decision-makers and the broader public new perspectives on pressing challenges.

While highlighting each year a general topic that also reflects on the location of the Forum,

our intention is to explore a range of overlapping issues in current global policy discussions. Potential topics for future editions include green leadership and green revolution technology; innovation, digitalization and AI;

media freedom in the post-truth era; and the future of urban centers in a changing world economy. In an effort to support the next generation of CEE changemakers, young intellectuals and university students from the region will be a key target group of our community-building.

The Pact of Free Cities is an open and progressive city alliance launched in December 2019 by the mayors of Budapest, Prague, Bratislava and Warsaw. Since its launch, the alliance has been a strong advocate for directly accessible EU-funding for local governments, and has reached out to other like-minded mayors to enhance a successful cooperation.