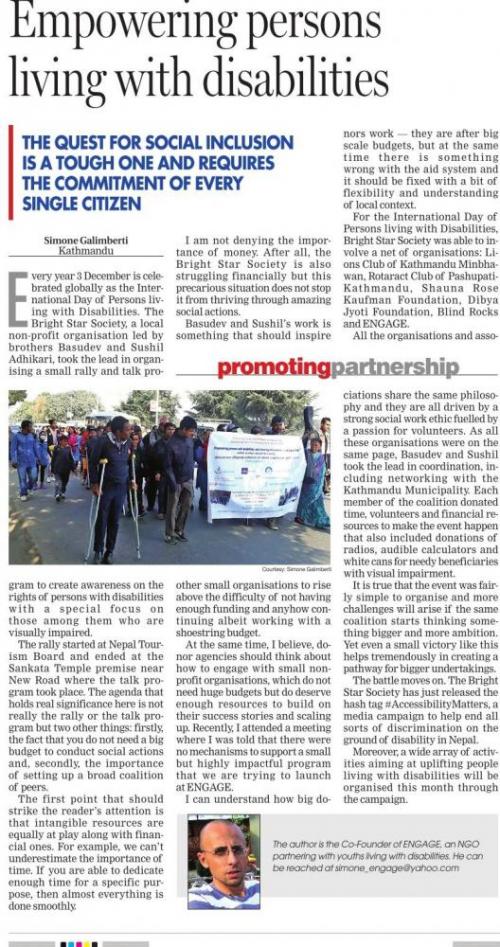 Every year the 3rd of December is celebrated globally as the International Day of Persons living with Disabilities.
The Bright Star Society, a local not for profit led by brothers Basudev and Sushil Adhikari took the lead in organizing a small rally and talk program to create awareness on the rights of persons with disabilities with a special focus on those among them who are visually impaired.
The rally started at Nepal Tourism Board and ended at the Sankata Tample premise near New Road where the talk program took place.
What is really significant here is not really the rally or the talk program but two other things: first the fact that you do not need big budget to conduct social actions and second one is the importance of setting up a broad coalition of peers.
On the first point what should strike the reader's attention is the fact that there are not only financial resources at play but also other more intangible ones.
For example let's think of the importance of  time. If you are able to dedicate enough time for a specific purpose, then almost everything is done.
I am not denying the importance of money. After all the Bright Star Society is also struggling financially but this precarious situation does not stop it from thriving through amazing social actions.
Basudev and Sushil' work is something that should inspire other small organizations to get "unstuck" from a "doom" situation of not having enough funding and anyhow keep the "ball rolling", punching above your weight, no matter having a "shoe string" budget.
At the same time I believe donor agencies should think about how to engage with small not for profits who do not need huge budgets but do deserve enough resources to build on their success stories and scaling up.
Recently I was in a meeting where I was told that there were no mechanisms to support a small but highly impactful program that we are trying to launch at ENGAGE.  
I can understand how big donors work, they are after big scale, big impact but at the same time there is something wrong with the aid system and it should be fixed with a bit of flexibility and understanding of local context.
Now the second point, the importance of building partnerships.
Basudev and Sushil are extremely good at building partnerships with like-minded organizations. 
For the International Day of Persons living with Disabilities, Bright Star Society were able to involve a net of organizations: Leo Club of Kathmandu Minbhawan, Rotaract Pashupati- Ktm, Shauna Rose Kaufman Foundation, Dibya Joity Foundation, Blind Rocks and ENGAGE.
All the organizations and associations share the same philosophy and they are all driven by a strong social work ethic fuelled by a passion for volunteerism.
The fact that these organizations are on the same page on so many things made the event possible with Basudev and Sushil taking the lead in coordination, including networking with the Kathmandu Municipality.
Each member of the coalition donated time, volunteers and financial resources to make the event happen that also included donations of radios and audible calculators and white cans for needy beneficiaries with visual impairment.
It is true that the event was fairly simple to organize and more challenges will arise if the same coalition starts thinking something bigger and more ambition.
Yet small wins like this helps tremendously build confidence and create a pathway for bigger undertakings.
The quest for social inclusion is a tough one and requires the commitment of every single citizen, including those who never experienced any levels of vulnerability and deprivation. We need empathy to win over the obstacles and challenges.
The battle moves on. The Bright Star Society has just released the hash tag #AccessibilityMatters, a media campaign to help end all sorts of discrimination on the ground of disability in Nepal. Through the campaign, an array of activities will be organized during this month:
Braille literacy class to be held from Dec 9,
The first I.T. Challenge for the blind: a flagship tech-competition to be organized to find the talented visually impaired tech-champion,
Braille essay writing contest for the high school students with visual impairment,
"Understanding disability" session for the staffs of different NGOs, INGOs, private sectors, banks for the people without disabilities to help them understand the different aspects of disability, inclusion, accessibility and so on.
As you can see there are plenty of opportunities to partner with Basudev and Sushil. If you want to have a chat with them, you can write to Sushil at creativesushil22@gmail.com.