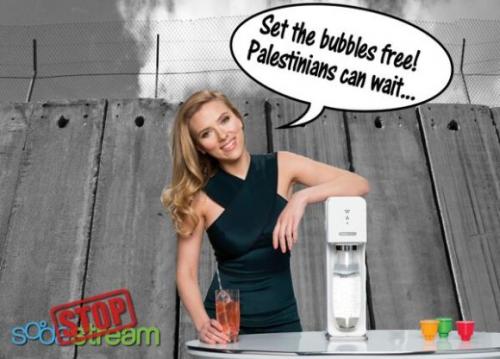 Actress Scarlett Johansson has quit as an ambassador for Oxfam amid a row over her support for an Israeli company that operates in the occupied West Bank.
A spokesman for the actress said she had a "fundamental difference of opinion" with the humanitarian group.
She will remain a brand ambassador for SodaStream[1], which has a factory in the Jewish settlement of Maale Adumim. The settlements are considered illegal under international law, though Israel disputes this. About 500,000 Jews currently live in more than 100 settlements built since Israel's 1967 occupation of the West Bank and East Jerusalem.
On Thursday, Oxfam issued a statement saying it had accepted Ms. Johansson's decision to step down and was grateful for her many contributions. "While Oxfam respects the independence of our ambassadors, Ms. Johansson's role promoting the company SodaStream is incompatible with her role as an Oxfam Global Ambassador," it added. "Oxfam believes that businesses, such as SodaStream, that operate in settlements further the ongoing poverty and denial of rights of the Palestinian communities that we work to support."
I recently sent the Director of Oxfam Nepal a link about this controversy.  His remarks were that he was glad to work for an organisation with principles.  I know about Oxfam as an organisation working on global poverty, injustice and other related issues. In Nepal, Oxfam is working with my NGO CSRC on land rights issues.  In the above noted controversy with Soda Stream, Oxfam seems to have taken the moral high ground.  For Johansson this probably came down to an economic decision, maybe not wanting to be told what her politics should be.  For Palestinians working in the factory, this has nothing to do with politics or illegal settlements; they don't even know about Oxfam or Johansson and probably don't care.  For the workers this has more to do with livelihoods, i.e. having a job, so that they can feed their children, have a home and health care, the basics. 
I've been reading a lot about ActionAid  as I've applied to be a volunteer through their Inspirators Program.  This is another organisation with great principles.   VSO the organisation for whom I currently volunteer has their own ethical screening process for engaging with corporates.  I've had some experience with this very rigorous process due to my volunteer assignment in Nepal.  I'm sure that many other I/NGOs have their own processes, deciding who to partner with.
None of this is black and white. Having principles, standing up against injustice is vital  if changes are to be made in the world; if the more than three billion people living on less than  $2.50/day are to be given more opportunity.  But how many of us can say that we have no contradictions in our lives?  How many of us, consider ourselves as humanitarians, but drink Coca-Cola, Pepsi, or eat chocolate in which the cocoa beans are harvested by slaves? (Actually SodaStream goes aginst Coke and Pepsi, because you can carbonate on your own, but then again have to be careful with too much carbonation).  Or use products which contribute to global warming or leave the "lights on", or smoke cigarettes, supporting the many workers livelihoods involved in the tobacco industry, the list goes on.
It makes sense for global ambassadors of organisations to be in line with the principles of that organisation.  After all, how could an organisation such as Oxfam work for the rights of Palestinians if their global ambassador is supporting a factory in an illegal settlement?  But one has to wonder what other products Johansson uses or supports and whether this made a difference?
Don't get me wrong; I'm glad that Oxfam and other organisations have principles, but can anybody really say that their life isn't a contradiction?   I try to wrap my head around why a corporation, which consists of people, would ever want to do anything harmful to others. Realistically speaking maybe it comes down to basic greed, not really caring about others.
But I don't want to believe this;  I want to believe that everyone has some good in them, maybe not to the point of being  a Jesus, Gandhi,  MLK, Jr. or  Mandela, even they had their issues, but that they do want to make the world a better place, but I'm not that naïve.
There are no easy answers as we all have our secrets, which only serve to make us human.    Organisations such as Oxfam can help us all to be a bit more conscious, to bring to light the contradictions which make us human, to help us all fight injustice.  But doesn't it really come down to all of those who are impoverished, who have less access to resources.  What is it that they really want?  This is probably not such an open-ended question,  probably the exact same things that everybody wants. It really shouldn't be that complicated.
---
http://forward.com/articles/191840/sodastream-controversy-fueled-by-lies...