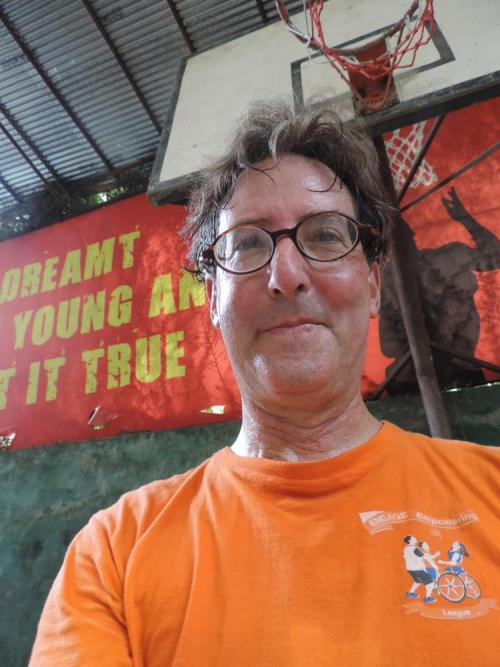 I know that my ego often gets aligned with my work, because it has been my focus for many years.  In March of this year I really wasn't feeling well.  My body was telling me something but I wasn't listening.  My son who was calling me every so often said, "Dad, every time I call you, you don't sound well.  Maybe it's time to focus less on work and move to another phase of your life. Why don't you write down your passions and think about how you might get there."  This started me on the path of moving back to the US.
Letting go and disentangling oneself from what one has been doing for a number of years isn't that easy.  When one's ego gets involved it becomes even more difficult.  When I left the Lancaster Central Market in October 2006 it wasn't by my own choice.   But the job, no matter how hard I tried, wasn't going well.  I could have left Lancaster without saying anything to anyone but I decided that I wanted to "bow out gracefully".  I was embarrassed because I thought that I was doing what I needed to do, but my antennae weren't raised to the point where I understood that this wasn't working.  I remember going individually to each vendor, looking them in the eyes, shaking their hands and saying good-bye.  I distinctly remember one of the vendors saying to me that he wouldn't have had the nerve to do this and this has stuck with me over time.
I know that I can be very intense in my work, which has "rubbed" some people the wrong way.  When I was younger I really didn't know how to listen and hear what others were saying, partially due to thinking that I was "right". I also wasn't very patient.  I would work even harder but this never really helped  and left me with a feeling of emptiness.  I know that this was the case with the Central Market.
As I've worked in India and Nepal for more than seven years I didn't think about the time ending.  This was a continuum and it was enough to visit my family and friends in the US once/year.  But back in March this felt different, that I needed to spend time with my parents who are 87 and 83 and with my children, as well as, further nurture my US friendships.  Connecting with family and working with passions full-time has taken more of a priority. 
The question then became how to gracefully bow out from Nepal, from a job that wasn't finished.  There is so much more to do with wheelchair basketball and other disability sports in Nepal.  There is much more work to be done in the area of livelihoods through the World Jewish Relief partners.  One year is certainly not enough to establish market systems, for people to change their behaviors. 
I led the process to find a replacement for me and fortunately this has worked out well through hiring a person who must have been Nepali in a past life.  For me then, this became a process of letting go, stepping back from the work and allowing the new person to take over, something which I feel that I've been doing. 
I've always been a very feeling person, but I haven't always paid attention to this in  my body.  It isn't always easy to deal with this but for me the first step is awareness followed by letting things be, breathing and moving onto the next time. 
Bowing out gracefully means that I don't need to have recognition or take credit that I can say good-bye and also say yes I've done a few good things, but I've also made some mistakes and tried to learn from these.  It is again paying attention to my body when I think about the experiences that I've had. 
Am I too hard on myself and do I find joy and gratitude?  The answer is yes, but I want to find more of the joy and gratitude from just living on a daily basis.  This will take time.  But I feel that by doing my passions, in this case basketball and farmers' markets, I will enable myself to being more in joy and gratitude. 
I really am understanding more about life as a journey and not a particular ending.  I've been privileged to be able to take this journey and bow out gracefully from my 50's.  My 60's awaits through my passions.