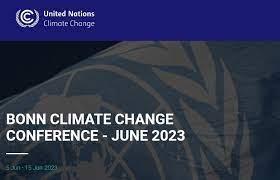 https://unfccc.int/news/simon-stiell-at-sb58-opening-we-are-at-a-tipping...
https://unfccc.int/news/un-climate-change-unveils-plan-to-showcase-leade...
Building on the many mandates that emerged from COP27 in Egypt last year, the conference will convene the 58th session of the UNFCCC subsidiary bodies, including a large number of events, and continue discussions on issues of critical importance.
These issues include the global stocktake, the global goal on adaptation, the just transition to sustainable societies, the mitigation work programme and loss and damage, among others.
"For many people around the world, limiting warming of our planet to 1.5 degrees Celsius is a matter of survival. The global stocktake is the opportunity of a generation to correct the course we are on, to design a way forward to tackle climate change with fresh vigor and perspective," said UN Climate Change Executive Secretary Simon Stiell.
The technical phase of the global stocktake will conclude at the Bonn Conference, and mark the start of the political phase which will work towards a strong outcome of the first stocktake at COP28.
Another key task at SB58 will be to prepare decisions at COP28 to operationalize the new loss and damage fund and funding arrangements, along with a decision on the host for the Santiago network on loss and damage.
Stiell added: "COP27 in Sharm el-Sheikh marked the shift to implementation of the Paris Agreement, resulting in several important outcomes supporting this historic new phase. Parties know what is at stake, and each country now has to deliver."
Several events will touch on climate finance, notably the provision of adequate and predictable financial support to developing countries for climate action, including the new collective quantified goal on climate finance. Other important issues will be increasing the transparency and accountability of climate action and minimizing the impacts that climate change is having on the agriculture and food security sectors.
Sameh Shoukry, President of last year's COP27 in Egypt, said: "The Bonn Climate Conference is an opportune occasion to stock take the status of implementation of the outcomes and breakthroughs achieved in Sharm el-Sheikh. It also provides an opportunity to pave the way towards achieving remarkable progress at COP28 in the UAE later this year. This is most urgent given that the climate crisis is becoming the new reality and we are forced to deal with its consequences on a daily basis. Acknowledging this, we must seize every opportunity to renew our science-based collective resolve to adhere to the principles of the UN Framework Convention and the Paris Agreement in order to strengthen our response to ensure observing the Paris temperature goal, keeping the 1.5 degrees within reach, effectively adapting to a changing climate and sufficiently responding to the different forms of losses and damages."
Dr. Sultan Al Jaber, COP28 President-Designate, said: "The upcoming Bonn sessions are critical for shaping meaningful, pragmatic, and impactful outcomes at COP28. As the incoming Presidency, we will ensure a fair, inclusive, and transparent presidency that provides space for all Parties to reach consensus across the whole agenda. That includes making climate finance more available, accessible, and affordable; doubling adaptation finance, operationalizing the loss and damage fund, tripling global renewable energy capacity by 2030; and putting young people, nature, and health at the heart of climate progress. We express our full support for the Subsidiary Body Chairs and call on all Parties to ensure we make as much progress as possible across all tracks. Our aim is to build on the results of SB58 to achieve a balanced and ambitious outcome in the UAE this December."
Also in Bonn, the High-Level Champions for COP27 and COP28, Dr. Mahmoud Mohieldin and Ms. Razan Al Mubarak, will continue to connect the work of governments with the many voluntary and collaborative climate actions taken by cities, regions, businesses and investors and discuss how to increase the accountability of such actions.
The Bonn Climate Change Conference runs from 5 to 15 June. More details can be found here.
For media enquiries, please contact press@unfccc.int.
About UNFCCC
With 198 Parties, the United Nations Framework Convention on Climate Change (UNFCCC) has near universal membership and is the parent treaty of the 2015 Paris Climate Change Agreement. The main aim of the Paris Agreement is to keep a global average temperature rise this century well below 2 degrees Celsius and to drive efforts to limit the temperature increase even further to 1.5 degrees Celsius above pre-industrial levels. The UNFCCC is also the parent treaty of the 1997 Kyoto Protocol. The ultimate objective of all agreements under the UNFCCC is to stabilize greenhouse gas concentrations in the atmosphere at a level that will prevent dangerous human interference with the climate system, in a time frame which allows ecosystems to adapt naturally and enables sustainable development.
Remarks by UN Climate Change Executive Secretary Simon Stiell at the Opening Plenary of the Bonn Climate Change Conference SB58 (the58th session of the UNFCCC subsidiary bodies).
Excellencies,
Delegates,
Observers,
Ladies and Gentlemen,
Two very important weeks lie ahead of us. The latest reports of the WMO and IPCC make clear that climate change is accelerating, and we are lagging behind in our actions to stem it.
I'm aware of the difficulty you face, wearing two hats at these sessions. There is, at times, tension between national interest and the global common good. I urge delegates to be brave, to see that by prioritizing the common good, you also serve your national interests - and act accordingly.
As you deliberate, keep in mind this basic premise: No life is expendable.
Not expendable because national budgets are already constrained elsewhere. 
Not expendable because we want to consume ever more energy than our needs.
Not expendable because fossil fuel extraction is a financial and political insurance policy.
Not expendable because nature is easily commoditized.
We have a clear ambition: to pursue limiting global warming to 1.5 degrees Celsius and deliver a resilient sustainable future for all.
We must make progress against all areas. This will set the frame for COP28.
The Global Stocktake is our opportunity to review where we are and get a view of where we need to get to, in order to meet our Paris Commitments. An articulation of the gap and how to close it.
Ambition is nothing without action. Sufficient Means of Implementation are essential for us to deliver on our commitments. Let us come out of these discussions with clear signs from the Technical Expert Dialogue, and the 9.5 Workshop.
On Loss and Damage, the agreement in Sharm El Sheik was the first step. The Transitional Committee's second meeting has pushed us forward but there is still some way to go. Progress in this session on the Glasgow Dialogue and further decisions regarding the operationalization of the Santiago Network will bring us closer.
The Mitigation Work Programme and Global Dialogue have been launched over the weekend. Every discussion on mitigation unlocks further innovation which we must use to revise and strengthen our NDCs and long-term strategies.
A strong agreement on a Just Transition can be a powerful tool to enable ambitious climate action. It can build trust to drive transformational development. So, let us aim for a close-to-final draft text to take to COP. 
The Global Goal on Adaptation will identify where the world needs to get to in order to be resilient.  The outcome of this negotiating track centers on producing a framework which will include structured components, that exemplify the landing zone for global resilience.  It will also enable us to assess progress towards achieving the adaptation goal, at any point in time.
Finally, the budget for the next biennium is on this session's agenda, and its adoption will ensure that the secretariat can best support the important work being done by Parties.
Friends,
Remember the best available science - which doesn't arbitrate on who needs to do what or who is responsible for what. The science tells us where we are and highlights the scale of response which is required.
I believe we are at a tipping point. We know that rapid change often follows a long gestation period. Goodness knows, that the gestation period for climate action has been long enough. We need to bring that tipping point forward.
This is an opportunity for Parties to demonstrate your joint commitment to fully implementing all aspects of the Paris Agreement and show the world that the era of implementation is well underway.
So, spend time building stronger relationships across groups & regions that will build trust and facilitate substantive progress to COP28.
The UN Climate Secretariat and I, will do whatever it takes to assist you.
Thank you.
UN Climate Change News, 5 June 2023 – As part of its increased efforts to boost the recognition and transparency of voluntary climate action initiatives and pledges, UN Climate Change has published a landmark 'recognition and accountability framework' for non-Party stakeholders, as well as its first implementation plan under the framework, which focuses on net-zero pledges from non-state actors.

"The purpose of the framework is to give enhanced recognition to non-Party stakeholders that are delivering on commitments, while pursuing transparency and helping to maximize the credibility of climate action pledges and plans by disclosing progress," writes UN Climate Change Executive Secretary Simon Stiell in a message to Parties and observers today. "Through recognition, we can showcase best practices as well as identify the systemic challenges that must be overcome for credible climate actions aligned with the aims of the Paris Agreement."

The UN Climate Change Recognition and Accountability Framework is a response to the invitation from Parties at COP27 for the secretariat to ensure greater accountability of voluntary initiatives. The first draft implementation plan under the framework responds to the urgent call from UN Secretary-General at COP27 to enhance the credibility of net-zero commitments. The first implementation plan will establish a new process to monitor and analyze voluntary net-zero commitments from non-state actors. The process will inform the outcomes of the global stocktake in 2023 and the update of countries' nationally determined contributions (NDCs) in 2025. In delivering this analysis, UN Climate Change will also seek to bring transparency regarding the systemic impact of those who have not yet made credible net-zero commitments.

In order to further enhance the credibility of these commitments, the UN Secretary-General established a High-Level Expert Group, which released a report titled Integrity Matters. The report serves as a how-to guide for credible, accountable net-zero pledges and details what non-state actors need to consider through each stage of their progress towards achieving net-zero ambitions.

UN Climate Change's first draft implementation plan focuses on bringing to life the recommendations of the Integrity Matters report.

The finalization of this implementation plan will be informed by an inclusive stakeholder engagement process, known as the 'Integrity Matters Implementation Dialogue.' The Dialogue will enable discussions on the systems and processes needed for recognition and accountability of net-zero pledges, plans, and progress reporting. The process gets underway with consultations at the Bonn Climate Change Conference next week and ends in September this year, with the co-chairs of the Dialogue delivering recommendations to UN Climate Change's Executive Secretary on the processes and systems to take this work forward.

Since the adoption of the Paris Agreement in 2015, the world has seen an increasing number of net-zero commitments by non-state actors, including through credible, existing initiatives including those who are members of Race to Zero. Since the launch of the Race to Zero Campaign by the High-Level Champions in 2020, the number of non-state actors with commitments to halve emissions by 2030 and reach net-zero by 2050 at the latest has significantly expanded.

Race to Zero will continue to mobilize best-in-class non-state actor leaders in all corners of the world, identifying and addressing barriers to action, and supporting the identification of policies needed to transition the global economy to net zero.

As requested by the UN Secretary-General, UN Climate Change is working to enhance its Global Climate Action Portal to be a single source of information of climate action pledges and plans by non-State actors. In addition to ensuring public availability of information UN Climate Change will also establish governance and policy systems to provide assurance regarding the quality of that publicly accessible data.

"The full roll-out of this framework in the coming years, including additional implementation plans for other voluntary commitments and initiatives, is an essential yet daunting task, but one we take on gladly," said Stiell.

Initial results of the UNFCCC secretariat-led process will be announced prior to, or at, COP 28 and will be updated on an annual basis thereafter to provide public assurance on progress made, recognize credible leadership in climate action and inform Parties' actions to address systemic barriers to the required transition.

More information

Read the joint statement from UN Climate Change's Executive Secretary and High-Level Champions to Race to Zero partners.