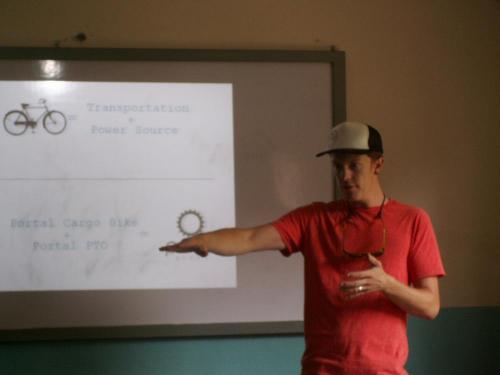 Recently at ENGAGE, as part of our monthly lecture for our volunteers, we had as our guest Caleb Spear a young American social entrepreneur that recently set up a business in Kathmandu, Portal Bike, a truly amazing venture.
Portal Bike has the mission "to help people turn bicycles into businesses that create pathways out of poverty".
Caleb believes that a bicycle not only makes sense as a healthy, fun and most importantly pollution free means of transportation but also can become a source of income for many low income people living in Nepal and potentially all over the world. In short a simple bicycle with some adjustment and modification can become a business opportunity, a "cargo bike", a special bicycle specially equipped through a "long tail" to carry heavy equipments and tools.
That's all? Absolutely not because a cargo bike can actually support different business ventures simply with the power of pedaling: Caleb came out with a Power Take Off (PTO) system attached to each Portal Bike, turning a bicycle into a pedal powered machine "without compromising its capability as a transportation means". In short a bike can work as water pump, water purification, grain grinder and corn sheller. It is basically a 2 in 1 product: you move around with your bicycle saving time, staying healthy while at the same time you can use it for some essential income generating activities.
What do you think now? Is the idea that crazy or  can it make business sense to millions of people still living in poverty that normally spend a lot of time doing jobs manually while instead they can rely on their bicycles? Can this model work on scale? Can it be exported beyond Nepal? This is what Caleb and his family is convinced of.
Interestingly Caleb believes in the power of markets or better in the power of micro-credit: low income people can purchase a portal bike through small loans to be gradually paid back.
To me the idea is just as amazing as the incredible energies put in by Caleb during the lecture. His enthusiasm was really contagious and inspiring. But if you have a good idea, how could you move forward towards its realization? Importantly Caleb also had the opportunity to share his life credo to become a social entrepreneur. It is basic, simple it is all in 3 Ps: Passion, Purpose and Past Experience.
Passion: in order to achieve something great in life you really need to believe in it, you need to love the idea, you need to desire it madly. In short you need to be really passionate about it. In the case of Caleb, his passion has always been bicycles. He grew up in the mountains of Colorado, one of the best spots on earth for mountain biking. From here came the idea of thinking about bicycling from a different perspective.
Purpose: You need to be clear about what you want to achieve. You need to be laser focused, determined with resolve to reach what you really want, what actually you are passionate about. Again Caleb always wanted to work on international development but he wanted to do this in a different way, more sustainably, more through a business approach. From here came the idea of multipurpose bicycles and scaling up the model through microcredit.
 Past Experience: whatever you do in life, even the most humble job is precious even if not strictly linked to your overarching life passion and purpose. You always accumulate experiences, learning something out of different situations and contexts. Again in the case of Caleb, all his past working experience, be it constructing houses in Colorado or working in a bio mass energy facility in Texas were all useful experiences and each of them shaped him profoundly. Caleb the social entrepreneur is what he is now.  No regrets.
The 3Ps to me are really a powerful life receipt. I hope more young Nepalis will decide to follow their hearts, be focused and ambitious and also accept odd jobs as part of their professional journey towards CHANGE.
http://portalbikes.org/portal/Portal_Home.html