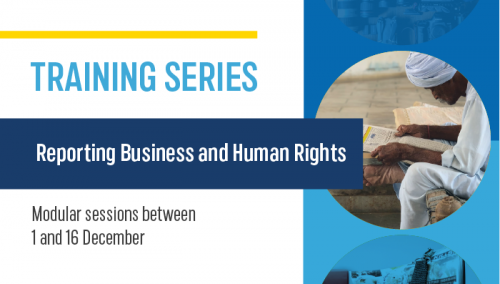 https://bizhumanrights.asia-pacific.undp.org/content/bizhumanrights/en/h...
Business and human rights issues cut across all types of news stories, from fashion to politics to the environment. These stories are often complex and require a unique set of skills to identify, pitch, and investigate, but they also have the power to bring critical issues to the public and political agenda.
In September 2021, the UNDP launched Reporting on Business and Human Rights: A handbook for journalists, communicators and campaigners with the aim to promote reportage on the impacts of business activities on human rights. To further these efforts, UNDP is organizing a series of virtual training sessions in the month of December for journalists, campaigners, and communicators. The trainings will be led by experienced journalists and trainers and will use the handbook as a key resource.
This short training series includes a training of trainers along with a series of independent, modular training sessions that will cover the ideas, principles, and skills needed to report on business and human rights. Find details on each session, including the schedule, session briefs, and participant criteria, in the detailed programme, available here
Participants are welcome to apply to more than one session depending on their interests and experience. These sessions will be highly interactive, and those attending will be expected to participate and interact with trainers and others attending the session. Some of the sessions include reading assignments and/or practical exercises during the course.  
HOW TO APPLY
Those interested should fill in and submit the following application form: https://forms.gle/9K56fwGZsRjrXnWX7.
Application deadline: 27 November: 
Only selected candidates will be contacted.
Download the detailed training programme for more information.