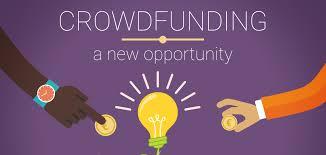 In this world, people have faced different problems.
People have used different technology platforms to solve their problems caused in their society, especially the use of internet as a medium to help to solve their problems caused in the world.
Crowd funding is the process of financing any project where large number of people can  donate small amounts of money with the help of internet in the systematic and efficient way.
Why are crowd funding web sites useful?
For example they can  help us to raise funds for any project where individuals or investors can donate some fund by browsing their websites.
Second they  help us to encourage  solving the social issues and problems caused in the world.
They can be a big help and advantage for local organizations as well as small donors.
First they provide access capital
Crowd funding is the best way of serving marketing tools, helping us to connect with loyal supporters where they can donate any fund for supporting the causes they love.
It reduces the traditional approach of funding process so that people have use modern platforms'
for funding process
In this world, there are most popular crowdfunding and some of them are:
1 Go Fund me: It is one of the best and popular online crowd funding platforms in the world. It has a simple and reliable way of operating.
People have trusted  this platform all over the world.
It has a simple payment security technology. It helps us to save and store the money where people can easily withdraw and it provides bank transfers facilities.
First, we will browse their mobile applications or website for creating an account. After creating account on this site, donors (???) we will open able to donate easily.
Through this platform, people have posted about because which helps to solve their causes by raising fund through online. It provides no any goals and plenty to the people. This crowdfunding website address is www.gofundme.com
2 Indiegogo: Indiegogo is one of the best and popular crowd fundings in the world. It was established in American in 2008 the American crowd funding system established on 2008. It helps to supports for entrepreneur.
People were able to put into practice new ideas through Indiegogo, both for profit and not for profit.. We can change idea and support which helps us to development for the market.
The real ideas can change into the business models. It helps us to find loan for business startup while it doesn't take any charges for charity campaigns.
Customer support plays a big part in the entire business model of the platform;
People have created their account browsing their websites and they will open their account details then they will post their ideas, charity campaigns and startup related for business through online platform. It is very flexible use where entrepreneurs' can start their business by raising fund from this website. Their website address is www.indiegogo.com
3 Global Giving: Global giving is another popular crowd funding platform. It is the social organizations for raising fund.
It helps us to donate the projects all over the world. Global Giving is unique because it is a the non profit platform which offers local organizations the opportunity to raise money  to make better society.
One of its functions is also to provide trainings to local organizations which are part of the supporting system set up by Global Giving.
Values are very important for this crowd funding: listen, act, learn research in order to provide effective to any organizations.
People can post about social problems and causes which helps us to solved their problems by raising fund through online.
Thousands of Non profit organizations have posted their causes on Global Giving  where people can get proper facilities.   You can browse it by clicking www.globalgiving.org
To conclude...
While all these platforms can really help a small organizations, it is not always easy to raise money through it. You need to pay attention to the fees enclosed to each of them as they are all profitable platform that are sustained by charging a fee for each donation.
Furthermore, it is not easy or simple to attract many potential donors to your cause as they are many projects competing for funding through these platforms.
It can be really hard to get your project known beyond your small restricted circle of relatives and friends.