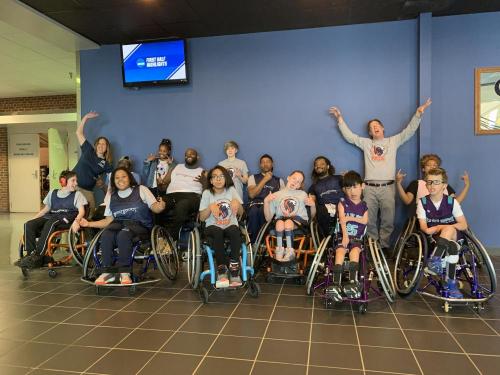 March Madness is the time of the year when the top 64 collegiate teams in both men's and women's basketball play to see who are the best in the country.  This season I had a great interest as basketball looms large in Durham, North Carolina where I live.  Schools such as North Carolina State, the University of North Carolina (UNC), and Duke are all competitive.  The Bridge II Sports PRIDE youth wheelchair basketball team had played during halftime at a North Carolina State men's game and a UNC women's game. 
I really enjoy watching women's collegiate teams play basketball.  They don't play above the rim, but as witnessed by the recent Women's National Basketball Association (WNBA) draft the players are getting taller. (The tallest woman drafted was 6'9" with two other women being 6'7").  The women's game is just as entertaining as the men's, as they are all incredible athletes. 
On March 10 I drive to the Greensboro Coliseum and purchased a ticket for the Atlantic Coast Conference (ACC) women's final between Notre Dame and Louisville both of whom have great teams.  (Although Notre Dame won the ACC Tournament, they lost in the final game of the season to Baylor by one point.) At halftime of the game there was a BMX bicycle exhibit.
When I came back to my office the following Monday, I contacted the ACC to see if the PRIDE could play at halftime of the 2020 ACC women's final.  This seemed to be more appropriate than a BMX exhibit and it would provide wheelchair basketball with greater exposure.  After sending her some video of the PRIDE playing, Kelly from the ACC seemed agreeable and I thought that this would occur in 2020.
My son was coming to visit me the weekend of March 29 and both of us being basketball fans I bought tickets online for the for the March 30 Sweet 16 women's games in Greensboro between North Carolina State and Iowa and Baylor vs. the University of South Carolina.  The winner of these two games would play for an opportunity to participate in the final four.  (Baylor ended up winning the game which was held on the following Monday night.  Baylor ultimately ended up being the national champion by beating Notre Dame). 
On Monday, March 25, I received an email from Kelly asking if there was any way that the PRIDE could play at halftime of the first game on March 30.  I always feel that it's important that when opportunities present themselves that I take advantage.  However, this gave me only a few days to pull this together.  Since the PRIDE didn't have enough players who could commit in such a short period of time, I reached out to the youth teams in Charlotte, North Carolina but that weekend the majority of their team members were playing in the youth wheelchair basketball finals in Illinois.  Two of the Charlotte team (Rollin' Hornets) members who weren't attending the finals agreed to participate.  I also asked the adult team in Raleigh (Triangle Thunder) and a group of adult players from Greensboro if they would participate.  Through this collaboration we were able to pull together six youth and six adult athletes to play full court during halftime. 
I picture this type of collaboration in Nepal where youth with disabilities are provided with the opportunities to play adapted sports along with adults.  I imagine the Nepal national team members as well as college basketball players, playing a game of wheelchair basketball against athletes with a disability to create greater exposure for the sport and those who participate.  Why shouldn't wheelchair basketball players play at halftime of college games!  All it takes is a willingness to say yes and to understand that those of us in the able-bodied community must break down the barriers that we have erected.