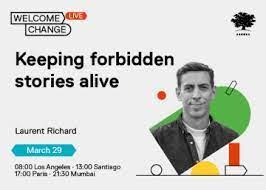 https://us02web.zoom.us/webinar/register/1016080504079/WN_qMBhL4eCS1mXWT...
Over the last five years, more than 300 journalists worldwide have been tragically killed. Ashoka Fellow and investigative reporter Laurent Richard founded Forbidden Stories, a global journalist network that collaborates to ensure "killing the journalist won't kill the story." Since 2018, they have published countless major investigations in 50 countries, bringing the world breaking news on the Pegasus Project among others, which revealed a global web of cyber-surveillance of unprecedented scale targeting journalists, human rights defenders, politicians and more.

Join us on March 29, live from Paris, as we hear from Laurent about the impact of their investigations —including their most recent one on the disinformation-for-hire industry— and the role collaboration plays in safeguarding press freedom.
This conversation will last about 30 minutes. Bring your questions!