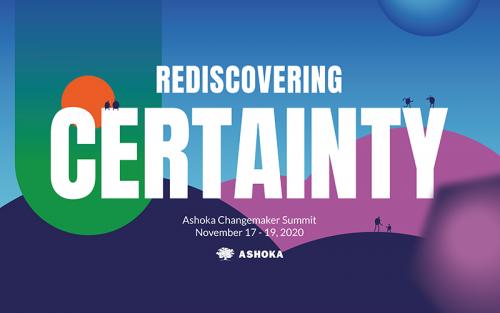 The Summit includes
100+ sessions across three days.
280+ speakers including leaders in social entrepreneurship, business, and philanthropy.
Community Connect which offers virtual spaces to build real connections with other changemakers. 
There are two ticket options:
PUBLIC ACCESS TICKET: Join the first day of the Summit (Tues, Nov 17) for FREE. Donations are welcomed (pay-as-you-can) so we can continue supporting and uplifting changemakers from around the world.
FULL COMMUNITY TICKET TICKET: Join all 3 days of the Summit (Nov 17-19) for 289€. Experience many more workshops, learning paths, interactive sessions, Community Connect spaces, and AI-powered networking opportunities.
Social innovation – a key to more certainty? The theme of the Ashoka Changemaker Summit is "Rediscovering Certainty". We will reflect together on which values bring certainty to our lives, even in times of crisis. What universal truths can we hold on to when everything is changing? We believe that certainty is not obsolete, but overlooked. Together with our community, we invite you to begin a journey towards certainty – driven by solutions to the most pressing social issues of our time.
Celebrate 70+ system-changing social innovators and young changemakers from around the world recently included into our network. Celebrate and learn from their transformative ideas.
Connect with key drivers of social innovation world-wide: Use our platform's artificial intelligence to get in touch with the most inspiring social entrepreneurs and change
leaders in your field of interest.
Discover the most transformative solutions to social issues and learn how to build more resilient societies through the power of social innovation.
Collaborate and co-create with experts, influencers and other change leaders that you will meet at the many different sessions in our agenda.