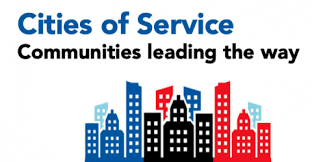 Eight U.S. cities will be selected to receive a $100,000 grant over two years to support resident-led efforts to fight blight and to fund a Love Your Block Fellow drawn from the community, as well as up to two AmeriCorps VISTA members and technical assistance from expert Cities of Service staff. The AmeriCorps VISTA member(s) and Love Your Block Fellow will serve in city hall to build capacity for resident engagement.

Now situated at Johns Hopkins University, Cities of Service is pleased to continue the Love Your Block program with support from Bloomberg Philanthropies and AmeriCorps.
Since 2009, Cities of Service has helped nearly 50 cities implement Love Your Block. More than 26,000 community members have revitalized over 3,500 community spaces, creating nearly 750 art displays, cleaning 98,000 square feet of graffiti, removing 6 million pounds of trash, and much more.
This program will focus on helping cities partner with community groups and activate resident volunteers to repair, remediate, or otherwise address blight in their neighborhoods. Every day, mayors and the cities they lead struggle with the negative impacts that vacant, abandoned, and deteriorating properties have on neighborhoods and the people living in them. The COVID-19 pandemic exacerbated these problems, particularly for communities in economically distressed areas. Love Your Block will help mayors and city chief executives address these daunting problems. 
Eligibility 
This opportunity is an open invitation to U.S. cities with:
A population of at least 30,000

The capacity to recruit for and manage up to two AmeriCorps VISTA members and a Love Your Block Fellow for two years

A demonstrated commitment to diversity and inclusion
More information about the award, criteria and eligibility, and an FAQ can be found here. Cities of Service will host an informational webinar on July 14 at 12pm EST.