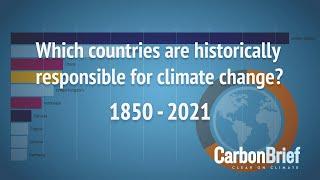 https://www.carbonbrief.org/analysis-which-countries-are-historically-re...
"In first place on the rankings, the US has released more than 509GtCO2 since 1850 and is responsible for the largest share of historical emissions, Carbon Brief analysis shows, with some 20% of the global total."
"China is a relatively distant second, with 11%, followed by Russia (7%), Brazil (5%) and Indonesia (4%). The latter pair are among the top 10 largest historical emitters, due to CO2 from their land.
Meanwhile, large post-colonial European nations, such as Germany and the UK, account for 4% and 3% of the global total, respectively, not including overseas emissions under colonial rule."
Related News: https://www.theguardian.com/environment/2021/oct/05/historical-climate-e...