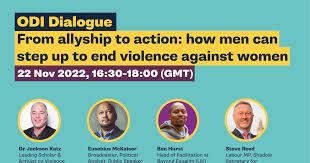 https://odi.org/en/events/from-allyship-to-action-how-men-can-step-up-to...
ALIGN's new report on feminist activism to end gender-based violence in public spaces highlights how cis-women, trans-women and gender non-conforming people face a litany of unsafe and potentially harmful encounters with violent masculinity every single day. But, can all genders come together in pursuit of a world free from violence and femicide?
On Tuesday 22 November, 2022 our ODI Public dialogue will learn from leaders and organisations working in this space, to centre the role of men as agents of change to promote healthy, non-violent masculinities. By shifting the focus of gender-based violence prevention onto accountability of perpetrators, it will expand the scope of action for male allies, policymakers and other supporters of change. The discussion will also demystify the different layers of gender norms at play, so we can build consensus on collective strategies to generate a more gender-equal world.
This is a hybrid event, and will be livestreamed to the public on the day.
Register now to receive a calendar invite, URL and reminder.