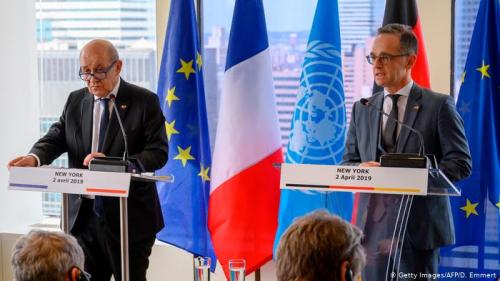 Find more information about the Alliance on:
https://www.dw.com/en/germany-launches-alliance-for-multilateralism/a-50...
https://www.dw.com/en/germany-france-to-launch-multilateralism-alliance/...
https://www.democracywithoutborders.org/7165/alliance-for-multilateralis...
https://berlinpolicyjournal.com/how-an-alliance-for-multilateralism-can-...
________________________________________________________________________________________________________
74th United Nations General Assembly
Press conference with Mr. Jean-Yves Le Drian, Minister of Europe and Foreign Affairs
New York, 22 September 2019
https://onu.delegfrance.org/74th-UNGA-Press-conference-with-Jean-Yves-Le...
"Amid the crises gripping today's world, effective multilateralism based on law and respect for shared rules is the best way to resolve the conflicts and challenges we all face. Multilateralism is both an approach and a goal: an approach because it's based on the idea that peaceful dialogue between responsible and committed nations provides the best chance of success; a goal because we share the conviction that a world governed by multilateralism is more respectful of countries' sovereignty and more capable of creating the conditions for peace and development. In a word, multilateralism is a humanism.
To recall these guidelines, especially here at the UN – the cornerstone of the multilateral system – is no longer platitudinous or obvious. In the face of doubt, cynicism, challenges and the difficulties international organizations may face, it's necessary to reaffirm our commitment to multilateralism.
To believe in multilateralism is not only to repeat a mantra, it also means taking action; and in order to make up for insufficient commitments in relation to our global needs, it also means taking action to reform and modernize existing organizations, and taking action to lead strong initiatives where needed, especially where governance is absent or non-existent.
That's why France, Germany, Japan and Canada, later joined by Chile, Mexico, Singapore, Ghana and others, were behind the creation of an Alliance for Multilateralism, to give a voice to the vast majority of countries that believe in the effectiveness of international cooperation. More than 50 ministers from every region of the world have already confirmed their participation in this initiative, which will take place during the coming week. So I invite all partners of goodwill – states, civil society stakeholders, international organizations – to take part in this high-level meeting due to be held this week.
Because I believe ultimately that the best response we can make to the destructive discourse of those who question the international order is to promote a project of humanism in the 21st century, and to champion a positive agenda for multilateralism at the service of the universal principles which are the very essence of the United Nations, where we are going to be for a week. Thank you for listening"