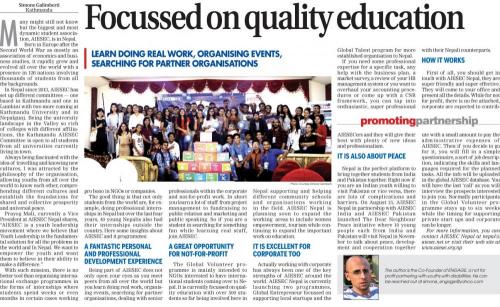 Many might still not know but the biggest and most dynamic student association, AIESEC, is in Nepal.
Born in Europe after the Second World War as mostly an association of economics and business studies, it rapidly grew and evolved all over the world with a presence in 126 nations involving thousands of students from all the backgrounds.
In Nepal since 2013 AIESEC has set up different committees — one based in Kathmandu and one in Lumbini with two more coming at Kathmandu University and in Nepalgunj. Being the university landscape in the Valley so rich of colleges with different affiliations, the Kathmandu AIESEC Committee is open to all students from all universities currently living in town.
Always being fascinated with the idea of travelling and knowing new cultures, I was attracted by the philosophy of the organisation, allowing youths from all over the world to know each other, comprehending different cultures and establish the foundations for shared and collective prosperity and universal peace.
Prayog Mali, currently a Vice President at AIESEC Nepal shares, "AIESEC is a youth leadership movement where we believe that Youth Leadership is the fundamental solution for all the problems in the world and In Nepal. We want to empower the youth and want them to believe in their ability to make a difference."
With such mission, there is no better tool than organising international exchange programmes in the forms of internships where students spend weeks or even months in certain cases working pro bono in NGOs or companies.
The good thing is that not only students from the world are, for example, doing professional internships in Nepal but over the last four years, 40 young Nepali also had their internships outside the country. Here some insights about AIESEC and it programs:
A fantastic personal and professional development experience
Being part of AIESEC does not only open your eyes as you meet peers from all over the world but you learn doing real work, organising events, searching for partner organisations, dealing with senior professionals within the corporate and not-for-profit work. In short you learn a lot of stuff from project management to fundraising to public relation and marketing and public speaking. So if you are a student in searching for something fun while learning real stuff, join AIESEC.
A great opportunity for not-for-profit
The Global Volunteer programme is mainly intended to NGOs interested to have international students coming over to Nepal. It is currently focussed on quality education with over 500 students so far being involved here in Nepal supporting and helping different community schools and organisations working in the field. AIESEC Nepal is planning soon to expand the working areas to include women empowerment, tourism while continuing to expand the important work on education.
It is excellent for corporate too
Actually working with corporate has always been one of the key strengths of AIESEC around the world. AIESEC Nepal is currently launching two programs, Global Entrepreneur focussed on supporting local startups and the Global Talent program for more established organisation to Nepal.
If you need some professional expertise for a specific task, an help with the business plan, a market survey, a review of your HR management system or you want to overhaul your accounting procedures or come up with a CSR framework, you can tap into enthusiastic, super professional AIESECers and they will give their best with plenty of new ideas and professionalism.
It is also about peace
Nepal is the perfect platform to bring together students from India and Pakistan together. Right now if you are an Indian youth willing to visit Pakistan or vice versa, there are lots of complications and barriers. On the 15th of August, AIESEC Nepal in partnership with AIESEC India and AIESEC Pakistan launched The Dear Neighbour Peace initiative where 10 young people each from India and Pakistan will visit Nepal to talk about peace, development and cooperation together with their Nepali counterparts.
How it works
First of all you should get in touch with AIESEC Nepal, they are super friendly and super effective. They will come to your office and present all the details. While for not for profit, there is no fee attached, corporate are expected to contribute with a small amount to pay the administrative expenses of AIESEC. Then if you decide to go for it, you will fill in a simple questionnaire, a sort of job description, indicating the skills and languages required for the planned tasks. All the info will be uploaded in the global AIESEC database. You will have the last 'call' as you will interview the prospects interested to join you. Normally participants in the Global Volunteer programme stays up to 6 weeks while the timing for supporting private start ups and corporate can be longer.
For more information, you can contact AIESEC Nepal at nepal@aiesec.net or visit their web site at www.aiesec.org.np