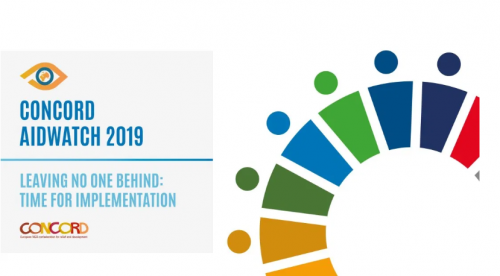 https://concordeurope.org/blog/2016/01/09/aidwatch-reports/
With ten years left until the deadline to meet the Sustainable Development Goals (SDGs) in 2030, the European Union (EU) and its Member States urgently need to ramp up efforts to deliver on their longstanding development assistance commitments and make good on their promise to 'leave no one behind'.
While the EU as a bloc remained the world's largest donor in 2018, investing €71.9 billion in Official Development Assistance (ODA) EU aid went down for the second year in a row – representing only 0.47% of the EU's combined GNI. This was partially due to a welcome reduction of in-donor refugee costs, student costs, debt relief, tied aid and interest repayments, which do not contribute to development in partner countries and as such inflate overall amounts. Yet, 'inflated aid' continued to represent 14% of EU ODA, and even discounting these components, aid is still going down. At this rate, the 0.7% ODA/GNI target will not be met until 2061.
Concerns also remain that EU donors are losing focus on development effectiveness – particularly in terms of alignment with country-led results frameworks – with a risk of undermining the impact of ODA. Interventions on key areas that are proven to contribute to reducing inequalities, such as investments in the Least Development Countries, genderequality and support to civil society, are also largely falling behind.
With inequality, exclusion and marginalisation hampering progress on the SDGs, there is an urgent need to focus on how ODA is allocated, to better serve the people who are left behind. In the absence of a universal definition of 'leaving no
one behind', identifying who, why and where is the first step to operationalise the principle. While the EU has enshrined the principle in the European Consensus on Development, no systematic approach or methodology to identify those left behind exists, and several Member States have not yet translated this commitment into national policy. Looking at a core group of the 16 poorest and most financially challenged countries – taking their current and future political and financial situation into account – there is dramatic evidence that those most in need of resources currently receive only 8% of EU aid. 'Leaving no one behind' requires a 'people-centred' approach to drive a thorough identification process focusing both on the people who are most marginalised, excluded or discriminated against and the poorest and most financially challenged countries. Data is critical to success and as such the EU must contribute to significantly improving the quality and coverage of disaggregated data.
Thanks to its concessional nature and clear poverty reduction objective, ODA has a comparative advantage to focus on inequality and live up to the leave no one behind pledge. This is why the EU must better align ODA allocation and programming decision-making with evidence of high levels of poverty and inequality. Measuring progress and outcomes is key to informing these decisions and holding donors to account. This requires a systematic approach based on a paradigm shift away from GDP growth and incomebased measures alone and towards indicators that weigh the wellbeing of all. It is only through a multi-layered effort to curb inequalities between people, groups and places that progress for the people furthest behind will be within reach.
You can reaad an article on this on
https://www.theguardian.com/global-development/2019/nov/21/less-than-10-...