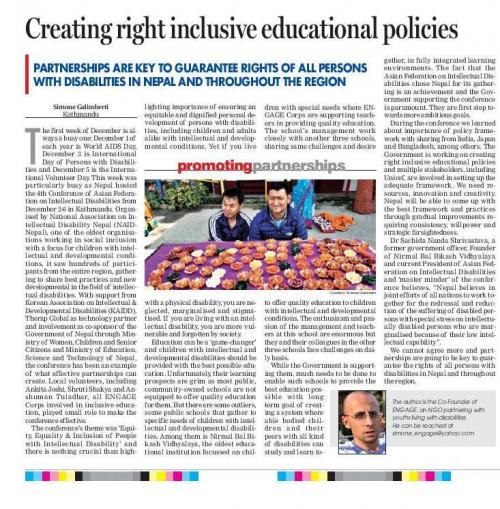 The first week of December is always a very busy one: the 1st December of each year is World Aids Day, the 3rd is International Day of Persons with disabilities and the 5th is the international Volunteer Day.
A variety of programs are being run throughout Nepal where local and international not for profit partner very closely with each other to come up with ambitious plans to create a better understanding on key social issues.
This week was also particularly busy because Nepal has been hosting in Kathmandu, from 2nd to the 6th of December, the 4th Conference of Asian Federation on Intellectual Disabilities.
Organized by the National Association on Intellectual Disability Nepal (NAID-Nepal), one of the oldest organizations working in the field of social inclusion with a special focus for children with intellectual and developmental conditions, the conference saw hundreds of participants from the entire region, all gathering to share best practices and new developmental in the field of intellectual disabilities.
With support from Korean Association on Intellectual & Developmental Disabilities (KAIDD), Therap Global as the Technology Partner and the key involvement as Co-Sponsor of the Government of Nepal through the Ministry of Women, Children and Senior Citizens and the Ministry of Education, Science and Technology of Nepal, the conference has been a great example of what effective partnerships can create.
Local volunteers, including Ankita Joshi, Shruti Shakya and Anshuman Tulandhar, all ENGAGE Corps involved in the field of inclusive education, played a small role to make the conference effective.
The time put by volunteers not only in the conference but also in their efforts on the ground deserved to be recognized, especially in the week of International Volunteer Day.
The theme of the conference was "Equity, Equality & Inclusion of People with Intellectual Disability" and I believe there is nothing more crucial than highlighting the importance of ensuring an equitable and dignified personal development of persons with disabilities, including children and adults alike with intellectual and developmental conditions.
After all, everybody has a right to live a meaningful life and persons with disabilities are equally entitled to enjoy their rights as anyone else.
Yet if you live with a physical disability, you are neglected, marginalized and stigmatized and if you are living with an intellectual disability, you are even more vulnerable and forgotten by the society.
Education can be a real "game-changer" and children with intellectual and developmental disabilities should be provided with the best possible education.
Unfortunately their learning prospects are grim as most of the public, community owned schools are not equipped nor have the resources to offer a proper quality education for them.
Fortunately there are some outliers, some public schools that gather to the specific needs of children with intellectual and developmental disabilities and among them there is Nirmal Bal Bikash Vidhyalaya, the oldest educational institution focused on children with special needs where our ENGAGE Corps are trying their best to support the teachers in providing quality education, a gigantic effort itself. 
Nirmal Bal Bikash Vidhyalaya's management work very closely with another 3 schools, sharing the same challenges and the same desire to offer quality education to children with intellectual and developmental conditions.
The enthusiasm and passion of the management and teachers at Nirmal Bal Bikash Vidhyalaya are enormous but they and their colleagues in the other 3 schools face enormous challenges on daily basis.
While it is good that the Government of Nepal is supporting them, much more needs to be done to really enable such schools to provide the best education possible with the long term goal of creating a system where able bodied children and their peers with all kind of disabilities can study and learn together, in fully integrated learning environments.
The fact that the Asian Federation on Intellectual Disabilities chose Nepal for its important gathering is itself an achievement and the involvement of the Government of Nepal in supporting the conference is really paramount. Yet we all know that such gatherings are a first step towards more ambitious goals.
During the conference we learned about the importance of policy framework with sharing from India, Japan and Bangladesh, among others.
The Government of Nepal is working on creating the right inclusive educational policies and multiple stakeholders, including Unicef, are involved in setting up the adequate framework.
We need resources, innovation and creativity.
Nepal will not be able to come up with the best framework and practices overnight but through gradual improvements requiring consistency, willpower and strategic farsightedness.
More resources for Nirmal Bal Bikash Vidhyalaya and other likeminded schools could be a first steppingstone.
Dr. Sachida Nanda Shrivastava, a former officer with the Government of Nepal and the Founder of Nirmal Bal Bikash Vidhyalaya and current President of Asian Federation on Intellectual Disabilities and the "master minder" of the conference believes that ", Nepal believes in joint efforts of all nations to work together for the redressal and reduction of the suffering of disabled persons with special stress on intellectually disabled persons who are marginalized because of their low intellectual capability".
We cannot agree more and partnerships are going to be key to guarantee the rights of all persons with disabilities in Nepal and throughout the region.