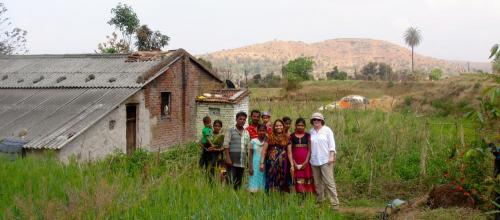 When Jo Coughlan agreed to represent the Royal Bank of Scotland (RBS) at a leadership programme in India, she didn't know what to expect but certainly rose to the challenge.
In February 2014 the Birmingham Leadership Foundation (BLF) an independent charity which nurtures and champions emerging young leaders, organised an adventurous two week leadership
trip to India. The BLF Indian Enterprise Adventure took a group of young leaders on a tour of Mumbai to gain an insight into Indian social enterprise and to experience life in rural India. Each of the eleven participants were selected on the basis of their talent and passion for ethical business.
Grassroutes social enterprise based in Mumbai were responsible for organising the groups visit to various social enterprises in Mumbai and to the village of Purushwadi five hours away. Grassroutes, was established in 2008 with the purpose of increasing livelihoods opportunities in rural india through community managed responsible tourism. Now Grassroutes works throughout the year in three different villages outside of Mumbai and has successfully increased the average household income of 180 households by up to 30%, creating on average 7,000 days of employment annually in each village.
After one day in Mumbai in which Jo had a glimpse into the city life dazzled by the slums and the mass of washing that hung publicly from pillar to post, she traveled 220 km north east to the village of Purushwadi, her home for the next three nights. Purushwadi is inhabited by the 'Hindu Mahadeo Koli' tribe who are renowned for their skills as rice cultivators and animal herdsmen. The village lies 800m above sea level between the river Kurkundi and river Mula. "As I arrived in the village a calmness came over me," Jo described her initial impression, "the scenery was stunning and I felt immediately relaxed." Jo was welcomed to the village with a simple ceremony in which she received a local white hat  a 'topi', worn by men in the village and was given a Hindu blessing marked by vermillion powder on her forehead. "As I walked from the campsite to the village in my heavy boots, village boys played barefoot with sticks and old tyres, they looked happy, healthy and fit, they didn't need electronic gadgets like we do in western societies," she observed.
As the days passed Jo built a special bond with her host an aged grandmother, who prepared her lightly spiced simple daily Indian meals. Despite the fact that they were not able to communicate verbally due to their difference in language, they learnt how to communicate through their expressions and formed a special bond between them in which they connected and grew a mutual understanding.
The village stay was specifically designed to give participants hands on experience of rural Indian culture, traditions and nature. "We learnt how to make fuel for the fire from cow dung which villagers cook their meals on," Jo described her experience. The group also learnt how to pound rice into flour and make it into their daily bread of small round chapattis cooked on the fire. "Everything you need is in the village, everyone has their role to play and they all seem happy to do it," Jo observed.
Since returning to London not a day has passed when Jo hasn't thought about her experience and reflected on it, she is raring to go back should the opportunity arise, "I have learnt not to worry about things you can't control and that less is more." She has also visited her children's school to talk about her experience and to share information about the lives of the children in rural India.
To find out more information about Grassroutes Journeys please visit our website: www.grassroutes.co.in or e-mail info@grassroutes.co.in Birmingham Leadership Foundation www.bleaf.co.uk