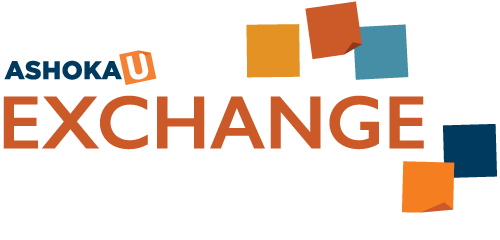 The Exchange is Ashoka U's global gathering for social impact educators. Now more than ever, the Exchange is more than just a conference. It's a home for educators, students, thought leaders, and visionaries who are passionate about transforming higher education into a home for changemakers.
The 2021 Exchange will take place virtually from March 16 – 19, 2021 and will be the last Exchange Ashoka U hosts. If you have crossed paths with Ashoka U and have been a part of our journey to date, we invite you to join us at the Exchange – whether as a speaker, a facilitator, or an attendee. If you have not yet engaged in one our convenings, we invite you to join us and experience the magic, love, generosity, and collaborative spirit that emerges when we come together.   
The 2021 Exchange will be an opportunity to celebrate your impact, connect directly with other leaders, changemakers, and Ashoka programs, and contribute to defining with Ashoka a new path forward for higher education.
Present at the Exchange
The Exchange agenda is driven by participants and features 80+ speakers sharing their best practices, lessons learned, and challenges as they transform higher education into a tool for social change and impact. 
Update: Presentation deadline extended until November 9th.
This year we have a variety of roles to feature presenters and facilitators on the agenda, take a closer look at all the opportunities below.
Agenda Roles
Presenters share their best practices, big ideas, insights, and lessons learned related to social impact and changemaking at their institution.
Facilitators are critical because they help frame the conversation and ensure engagement with the audience.
Session Types
Best Practice session

 – 75 minutes – features 2-3 co-speakers and a facilitator, sharing insights and lessons learned on a specific topic or theme. You can choose to be matched with other Best Practice session presenters or submit your own session with 2-3 co-

presenters. 

Big Idea Talk

 (BIT)

 – 10-12 minutes – this TED-style talks, is focused on the big idea, for example, a new way of thinking about traditional societal structures or a framework that is transforming higher education and community. 

Workshop

 – 75 or 90 minutes – hands-on sessions designed to go concretely into skill-building or deep into a subject that can help fuel social impact and changemaking initiatives on campus.

Spark Session

 – 30 minutes – 

 show and tell designed to share programs, projects, and initiatives. This is the space for brief connections and quick shares with the community.
Students in Action (SIA) – 30 minutes – n

ew this year, this session will be a "showcase" space for students' to share their social innovation projects and initiatives 
Session Topics
Anti-Racism Activism – Landmark initiatives to change the embedded culture of white supremacy and colonial learning within higher-ed.
Changemaker Careers – How higher education can better prepare students for social impact careers.
Co-Curricular Offerings – Real-world, experiential learning opportunities for students (credit or non-credit bearing).
Community Partnerships – Partnerships led by and designed with community-based organizations.
Courses & Course Sequences – Building culturally-inclusive curriculum and assessment of learning outcomes.
Equity, Diversity & Inclusion (EDI) of Institutions – EDI was once a numbers-focused metric for corporations. Now, the implications of EDI work is being utilized to drive conversations about well-being, tolerance, and equal growth opportunity. What is the role of this more modern perspective of EDI in our universities and colleges? Submission should have an organizational lens and approach for how institutions can be accountable for its learning spaces, the importance of setting expectations and implementing policy to safeguard its students, and the way forward on how higher-ed is positioning EDI in its culture to inspire future generations.
Global Challenges – Individuals and institutions demonstrating how higher education can leverage its resources to address urgent problems being faced by students and communities. Topics may include; immigration, police brutality, climate change, gender, future of work, public health, and other global problems with a local lens.
Institutional Leadership – Resources, strategies, and frameworks for senior leaders to be advocates and allies for social impact education.
Mindfulness & Well-being – Methods for encouraging resilience, self-care, and mental health.
Research – Innovative research approaches and methods that demonstrate alignment between community-engaged research and change-making principles, values, and projects.
Student Changemakers – Sessions and topics targeted towards students and recent grads that are designed to activate, empower, and equip students with the skillsets and mindsets to be life-long changemakers.
Review Process
As you consider submitting your presentation application, please note that:
Acceptance notifications will be sent out on December 18, 2020.
Your application may be reviewed by the Exchange Councils and the Ashoka U team.
All selected presenters are responsible for expenses incurred in conjunction with the 2021 Ashoka U Exchange, including registration ($349). 
All presenters and facilitators will be listed in the Exchange program.
Questions 
If you want to know what we are looking for in more detail, please read this document. 
For any additional questions, please reach out to Michelle King, Exchange Associate Director, at mking@ashoka.org or schedule some time on her calendar here.