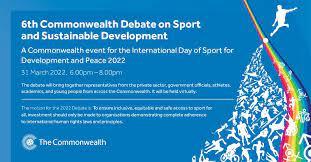 When: 31 March 2022, 6.00pm - 8.00pm GMT
to register here: https://register.gotowebinar.com/register/8323104431802665744
The 2030 Agenda for Sustainable Development set by The United Nations recognises sport as an important enabler of sustainable development and peace. The Commonwealth supports member governments, the Commonwealth sports movement, and key stakeholders to maximise the contribution that sport can make to the Sustainable Development Goals (SDGs). Key areas of focus for this impact include health, education, gender equality, human rights, social cohesion, good governance and building strong institutions.
The Commonwealth Secretariat supports this mission by being a leading advocate for the use of sport for sustainable development and peace and providing tailored technical assistance involving policy and strategy development. A key milestone in our annual work programme is the International Day of Sport for Development and Peace (IDSDP).
To mark the 2022 International Day of Sport for Development and Peace, the Secretariat will host its 6th Commonwealth Debate on Sport and Sustainable Development virtually, on Thursday 31 March 2022.
The sixth edition of this annual event will see two teams made up of officials, experts, athletes and youth leaders debate whether: 'To ensure inclusive, equitable and safe access to sport for all, investment should only be made to organisations demonstrating complete adherence to international human rights laws and principles.'
Programme
1800 Welcome remarks from Rt Hon. Patricia Scotland QC, Secretary-General of the Commonwealth
1810 An introduction to the debate by the moderator Radha Balani, Co-Managing Director thinkBeyond
1815 6th Commonwealth Debate on Sport and Sustainable Development. 'To ensure inclusive, equitable and safe access to sport for all, investment should only be made to organisations demonstrating complete adherence to international human rights laws and principles.'
Arguing for the motion: 
Hon. Aurore Mimosa Munyagaju, Minister of Sports, Government of Rwanda
Sir Hilary Beckles, Vice Chancellor, University of West Indies
Dr Payoshni Mitra, CEO, Global Observatory for Women, Sport, Physical Education and Physical Activity
Professor Jack Anderson, Professor of Law, University of Melbourne
Arguing against the motion: 
Hartwell Mhundru, Human Rights and Inclusion Lead, The Commonwealth Games Federation
Fahmida Faiza, Head of Social Responsibility and Safeguarding, South Asian Football Federation
Paula Tesoriero MNZM, Disability Rights Commissioner, New Zealand Human Rights Commission
Theresa Goh, Para Athlete representing Singapore
1915 Questions from the audience and open panel discussion
1940 Special Address
Anne Wafula Strike MBE, Commonwealth Champion for Equality in Sports
Dr Ben Sanders, Senior Consultant, sportanddev
1950 Adjudication and Closing Remarks
Dame Louise Martin DBE, President, Commonwealth Games Federation
David Rutherford, Principal, Tuhana Business and Human Rights Chairperson, and CABOS
Stephen McCubbin, Co-ordinator, Commonwealth Youth Sport for Development and Peace Network (CYSDP)
2000 Close