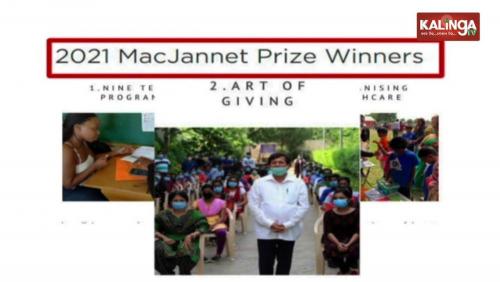 Announcement:
https://talloiresnetwork.tufts.edu/about-the-macjannet-prize/2021-macjan...
TNLC 2021: MacJannet Prize Award Ceremony
Sunday, October 3
8:00 – 8:45 AM EDT
Join Tisch College and Harvard University's Institute of Politics for the MacJannet Prize Award Ceremony.
The MacJannet Prize was established by the Talloires Network and the MacJannet Foundation to
recognize exceptional student community engagement initiatives at
Talloires Network signatory member universities and contributes financially to their ongoing public service
efforts.
Tony Cook, president of the MacJannet Foundation, and Wenke Thoman, MacJannet foundation board
member, will announce the three 2021 MacJannet Prize winners.
Followed by a panel discussion with the award winners moderated by Alex Fognani,
The Talloires Network Global Programs Graduate Assistant.
The event will be accessible to individuals not attending the larger TNLC conference.
We hope you will join to learn more about the annual Prize!
https://talloiresnetwork.tufts.edu/about-the-macjannet-prize/2021-macjan...
First Place: Nine Tenths Programme (Rhodes University, South Africa)
The Nine Tenths Programme is the First Place winner of the 2021 MacJannet Prize. Born out of the need to address the unequal education sector in Makhanda, Nine Tenths provides mentorship and increased access to education to improve pass rates of local no-fee schools. Nine Tenths is co-managed by the Rhodes University Community Engagement Division (RUCE), local high schools and a local Non-profit Organisation, GADRA Education. Programme responsibilities are carried out in a participatory manner by each partner based on their skill set and resources. Student volunteers apply to be part of the programme and are put through a rigorous training programme. Student leaders are elected, who each take responsibility for 14 volunteer mentors. These leaders are critical as conduits of information and quality assurance of sessions.
The program strives to revitalize education in Makhanda, enhance access to tertiary education and equip young people to transform their socio-economic status. The success of the program is evident in the increasing pass rates of university entrance-level exams, which have seen annual increases of approximately 30 Bachelor-level passes, with "program participants delivering at least 80% of all Bachelor-level passes produced by the six local schools." Learn more. 
"Our University is deeply honoured with this tremendous recognition by the Talloires Network with the 2021 MacJannet Prize for Global Citizenship.  This award is a fitting tribute to our students who recognised the deep inequality in our city and through University Community Partnerships have made a profound impact on the lives of young people.   As engaged citizens, these university students are not just content with seeing our society or the world as it is but can imagine a better society and better world and are prepared to work with courage and compassion towards a more just, humane, a more equitable, and a more inclusive and compassionate society.  This Award serves as inspiration to our community to continue to find each other, strengthen partnerships and drive broader social change." – Dr. Sizwe Mabizela, Vice Chancellor
"What a tremendous honour it was to receive the news that we had won the prestigious award for Global Citizenship, the MacJanet Prize from the Talloires Network.  We acknowledge the passion and commitment of our partner organisation, GADRA Education, the participating High Schools and the student team leaders and volunteers.  We also acknowledge the important mandate made by Higher Education post 1994,  to infuse community engagement into teaching and research as part of transforming Universities in South Africa. The support provided by our senior management to put this mandate into effect for the benefit of our community partners and university students is celebrated with this Award." – Ms Diana Hornby, Director of Community Engagement
---
Second Place: Art of Giving (Kalinga Institute of Industrial Technology, India)
The Art of Giving program strives to share the spirit of generosity and kindness to their community and the world in order to address a variety of societal issues. The program offers resources and student-led initiatives to improve access to inclusive education, support gender equality, uplift indigenous communities and promote sustainable development. The Art of Giving program staff write that it, "acts as a bridge between students and the indigenous community. Students need to understand and empathize with the problems which exist outside the four walls of their university." The program also partners with local community leaders who act as "change makers" and are one of the pillars of the program. Learn more. 
"I feel honoured that the Art of Giving has won Second Place for the 2021 MacJannet Prize for Global Citizenship. I would like to express my special thanks to the Selection Committee.  It inspires us to continue our civic and community engagement work." – Dr. Achyuta Samanta, Program Director and Founder of KIIT and KISS
---
Third Place: Humanizing Healthcare (University of Manchester, United Kingdom)
Shortlisted for the MacJannet prize in 2018, the Humanizing Healthcare program began as "Humanizing Dentistry" and has since expanded to the fields of optometry and pharmacy. This project aims to expand the role of civic engagement in the healthcare field and curriculum and is "based on the premise that we cannot create excellent healthcare professionals of tomorrow without creating engaged ones." Students lead programs and deliver free health services to communities including refugees, asylum seekers, LGBTQ+ community members, and native non-English speakers, aiming to break down the barriers to healthcare that these communities often face. Learn more. 
"In pioneering the 'Humanising Healthcare' program concept, we have successfully interwoven service learning pedagogy into the health care curriculum and positively interlocked the student learning experience with helping to combat health inequalities in Manchester and further afield. We sincerely thank the Talloires University Network for recognising our students' achievements which is very much in alignment with Social Responsibility, one of our University's strategic goals."  Dr. Raj. Ariyaratnam, Program Lead.
---
Honorable Mentions:
Penggerak Pendaulat Borneo 4.0 (The National University of Malaysia, Malaysia)
The Penggerak Pendaulat Borneo 4.0 (PPB 4.0) program addresses the lack of electricity, clean water resources, and education in its local rural communities. Among the services offered in the PPB 4.0 program are a comprehensive clean water supply through the River Harvesting project and water filters installed in Kampung Lumampau. This program addresses changes in climate, geographical structures, and weather that affect the way of life of local communities who rely on the river as a main source of water. Additionally, "PPB 4.0 aims to increase awareness of the rural community towards education" regardless of the location, socio-economic level, and ability level of students.
Positive Psychology and Wellbeing Research Lab (Effat University, Saudi Arabia)
Founded by Dr. Saddiga Jaber Al Ghalib at Effat University, The Positive Psychology and Wellbeing Research Lab specializes in the scientific study of applied positive psychology and wellbeing. Responding to negative attitudes toward mental and psychiatric illnesses, the program notes, "We envision a world where conversation about mental health or seeking assistance for mental illnesses is no longer taboo or controversial." The program has published articles, hosted informational events, and provided free counseling and support sessions during the pandemic.
Penitentiary Program "Don Bosco" (Universidad Católica Silva Henríquez, Chile)
The "Don Bosco" program provides access to education and professional training to incarcerated people through a variety of programs including literacy workshops and a Manual for Adult Literacy written by UCSH students, along with an effort to destigmatize Persons Deprived of Liberty (PPL). "Through visibility, awareness, reflection, and the generation of socio-educational actions, the program aims at the development of autonomy and critical capacity and decision-making for people deprived of liberty and freedom."
---
The Talloires Network would also like to recognize the impactful work of all of the finalists for the 2021 MacJannet Prize and we thank all of the nominees. We would also like to thank our international selection committee.
International Section Committee:
Zamima Islam Saba – Student, BRAC University (Bangladesh)
Pakiname Yousri Mamdouh – Senior Manager, Civic Engagement Unit, The American University of Cairo (Egypt)
Kate Morris – Head of Campus Engage, Irish Universities Association (Ireland)
Chau Au – Talloires Network Steering Committee Student Representative, University of Technology Sydney (Australia)
Phil Mlanda – Co-Founder & Program Manager of paNhari (Zimbabwe)
Carole Hambleton – Trustee Emeritus, MacJannet Foundation (South Africa)
Ursina Pluess – Trustee, MacJannet Foundation (Switzerland)