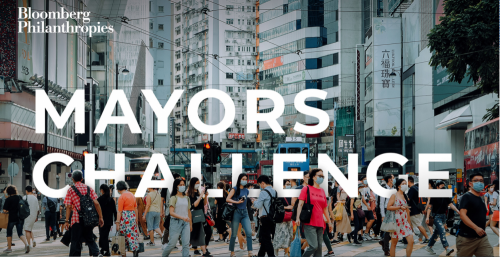 https://bloombergcities.jhu.edu/mayors-challenge
COVID-19 has changed daily life for people around the world and required that cities do more with fewer resources than ever before. Yet, even in the face of a public health crisis, social unrest, massive budget shortfalls, and mounting climate disasters, mayors are innovating and taking bold steps to tackle their cities' most pressing challenges.
WHO IS THE PROGRAM FOR?
The 2021 Global Mayors Challenge is open to all cities with populations greater than 100,000 residents. All eligible cities must RSVP to the competition and submit a completed application no later than 21 March 2021.
WHAT MAKES A GREAT IDEA?
The Mayors Challenge is looking for the 50 leading urban innovations that were imagined or launched in the wake of the COVID-19 pandemic. These ideas can be in any stage of implementation, but must have the potential for meaningful impact, and the ability to spread to other cities.
WHAT CAN CITIES WIN?
This year's Global Mayors Challenge, which is our biggest yet, will give 50 champion cities access to world-renowned experts in innovation and data to help them improve upon their idea. Fifteen grand prize winners will then receive $1 million each to begin the implementation of their breakthrough ideas.