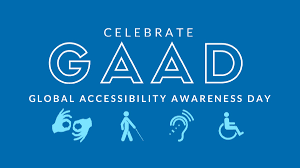 The idea of a Global Accessibility Awareness Day started with a single blog post written by a Los Angeles-based web developer, Joe Devon. See Joe's Blog post that served as the inspiration for Global Accessibility Awareness Day.
The GAAD Foundation
The GAAD Foundation was launched in 2021 to mark GAAD's 10th anniversary. Its mission is to disrupt the culture of technology and digital product development to include accessibility as a core requirement.
What is Digital Accessibility?
Every user deserves a first-rate digital experience on the web. Someone with a disability must be able to experience web-based services, content and other digital products with the same successful outcome as those without disabilities. This awareness and commitment to inclusion is the goal of Global Accessibility Awareness Day (GAAD), a global event that shines a light on digital access and inclusion for people with disabilities.
About GAAD Founders
Joe is a serial entrepreneur who has been fostering the growth of the Los Angeles tech ecosystem since 2008. His experience includes co-founding at Diamond, an inclusive digital agency and co-founder of Global Accessibility Awareness Day (GAAD). In 2019, Joe and the Diamond team launched their first State of Accessibility Report along side "Take the #GAADPledge" a commitment made by organizations and developers to make accessibility a core value of their project. When Joe is not solving technology challenges for major organizations, you can find him on stage influencing every developer and corporation to build their digital products with inclusive design in mind.
Jennison Asuncion
Co-Founder
From Canada to the US, Jennison Asuncion has had a long career in Digital Accessibility. He spent seven years at the Royal Bank of Canada working with their internal teams and vendors to ensure they meet the bank's IT accessibility standards. At LinkedIn, he manages a team of software engineers who focus on enabling the global workforce of professionals with disabilities to be more productive and successful. He founded the Bay Area Accessibility and Inclusive Design meetup, co-founded Global Accessibility Awareness Day (GAAD), and has an impressive array of awards, from being decorated by Queen Elizabeth II with the Diamond Jubilee Medal, to the 2018 Stephen Garff Marriott Award.